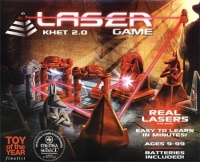 The company co-founded by a game inventor has prevailed in a lawsuit that accused toy giant MGA of stealing the concept for its board game, according to the
Colorado Springs Business Journal
. Innovention Toys, co-founded by game co-inventor Dr. Michael Larson, was awarded $1.6 million by federal court in Louisiana. The award consists of $1.4 million in lost profits and $170,000 in provisional rights damages.
The case has been litigated since 2007, when Bratz maker MGA introduced Laser Battle, which like Innovention's Khet used pieces on a board and a laser. Khet sales have been ongoing, but MGA was enjoined from continuing to sell its game. Before the court order, however, MGA had been able to use its distribution muscle to get its version sold in Walmart and Toys R Us.
As we noted in our 2007 report (see "
'Khet'--The Laser Board Game
"), Khet sales had been brisk with over 60,000 units sold by May of that year. Now Innovention is poised to once again increase its sales; it recently signed a deal with Toys R Us.