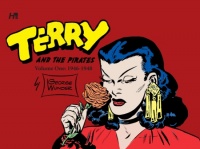 Hermes Press has announced that it is going to publish Terry and the Pirates: the George Wunder Years: Volume One 1946-1948 ($60, 9x12 inches), a deluxe hardcover with a dust jacket, printed laminated cover, and end leaves.
In addition to reprinting George Wunder's first two years of the dailies (in black-and-white) and Sundays (in color) of Milton Caniff's classic action/adventure strip (Wunder took over for Caniff in December of 1946 and continued for almost 27 years), the book will include an historical essay.
To ensure archival quality, the strips in this prestige volume will be fully digitally restored.
--By Brett Weiss