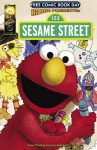 The 12th annual Free Comic Book Day isn't until Saturday, May 4th, but it's December and that means that the Gold Sponsor books have been announced for the event, which is designed to introduce new readers to the joys of comic books.
A wide variety of Gold Sponsor titles are being offered, most of which are geared toward younger readers, and all of which have some kind of media tie-in. Unlike previous years, which had 10 Gold Sponsor titles, 2013 will boast 12.
Ape Entertainment is providing a Sesame Street/Strawberry Shortcake flipbook, written by Georgia Ball and Jason M. Burns, with art by Amy Mebberson. Cookie Monster, The Count, Elmo, and Super Grover "teach you about the magic of reading comics" while Strawberry Shortcake and company participate in three adventures: "The Blue Flu," "The Hunt for Blackberry's Treasure," and "Blueberry's Book Tour."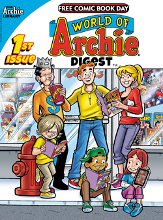 Archie Comics is going to regale FCBD customers with
The World of Archie Digest
, introducing new readers to the antics of Riverdale's favorite teens: Archie, Betty, Jughead, and Veronica.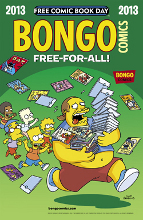 Bongo Comics is offering
Bongo Comics Free-For-All!
, which stars: Jimbo, the quintessential juvenile delinquent; Bart, who becomes model citizen for a day; and Li'l Homer and Maggie, who go looking for Happy Little Elves.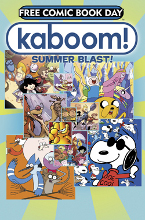 BOOM! Studios/KaBOOM!'s FCBD offering is
KaBOOM! Summer Blast
, a 48-page, excerpt-filled showcase for
Adventure Time
,
Peanuts
,
Regular Show
,
Bravest Warriors
,
Garfield
, and
Ice Age
. In addition, it will include "brand-new surprises."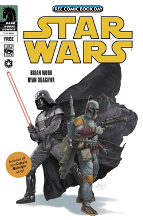 With
Star Wars/Captain Midnight/Avatar
, Dark Horse Comics is using FBCD to promote three all-ages properties:
Star Wars
features fan-favorites Darth Vader and Boba Fett;
Captain Midnight
previews the forthcoming series about a missing super-hero; and
Avatar: The Last Airbender
finds Mai dealing with a broken heart.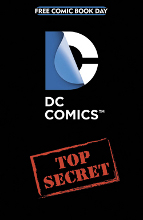 Other than the promise of a storyline featuring multiple heroes, Marvel remains mysteriously mum on their FCBD entry. DC Comics is only slightly more forthcoming on its Gold Sponsor freebie, revealing the title,
Superman Special Edition
, but no other details.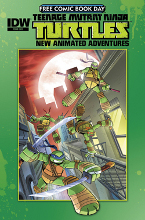 IDW Publishing is giving readers of all ages
Teenage Mutant Ninja Turtles New Animated Adventures
, with all-new stories based on the computer-animated TV series airing on Nickelodeon.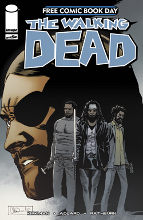 Image Comics is looking to appeal to older readers with
The Walking Dead FCBD 2013 Special
, written by Robert Kirkman, with art by Charlie Adlard and Cliff Rathburn. In addition to a new Tyreese short story, the issue includes reprinted short stories starring The Governor, Michonne, and Morgan.
The Walking Dead
fans should grab this issue because none of the stories will be reprinted in the trades.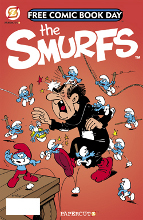 NBM Publishing/Papercutz is providing
The Smurfs
(written and drawn by Peyo and others), in which the nefarious Gargamel meets his match in the form of a giant ogre. In addition to "Ogre and the Smurfs!," the issue includes comics from two new Papercutz series:
Ariol
(by Emmanuel Gilbert) and
Annoying Orange
.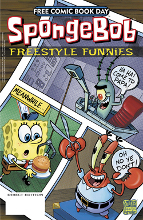 United Plankton promises
SpongeBob Comics Freestyle Funnies
, an original collection featuring: "Paint Misbehavin'," in which painted creatures come to life; and "Day of the Free Comic," in which Plankton plans to invade the Krusty Krab. In addition, Mermaid and Barnacle battle a new villainess called the Catfishstress.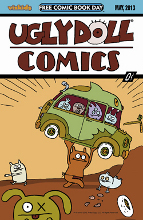 VIZ Media will offer
It's The Ugly Doll Comic & Other Stuff
, written by David Horvath (and various), with art by James Kolchaka (and various). This is the first
Uglydoll
comic book adventure, and it stars OX, Wage, Babo, Ice-Bat, and all their friends.








--Brett Weiss