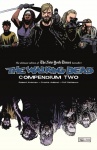 Time to break out the party hats over at Image--looks like the number one and number two top-selling graphic novels of 2012 could easily be
The Walking Dead Compendium Volumes One
and
Two
! And since both books are priced at a hefty $60, this pretty much seals the deal: 2012 is the year of
The Walking Dead
. Not content to hold the top two slots on the November according to the ranking of "Top 20 Graphic Novels" sold in the book channel provided exclusively to ICv2 by Nielsen BookScan, Robert Kirkman's zombie drama also shows up in positions 6, 8, 11, 13, 15, and 19 for a whopping eight titles in the top 20. The reason, of course, is the debut of the third season of the TV show on AMC, which continues to break records again and again.
As expected, Chris Ware's
Building Stories
from Pantheon takes #3. Selected by
Publishers Weekly
, the
New York Times
, and many others as one of the best books of the year, this book was strong in October and looks to stick in the top five for the remainder of the year.
DC's
Superman: Earth One Volume 2 HC
snags position #4. It's a strong debut for the second volume in this re-imagination of Superman, but I'm skeptical that it will stay strong next month, and I'm predicting a steep drop-off for this title. We'll see how things play out.
Marvel finally places in the top 20 with
Avengers Vs. X-Men
. This massive 568-page hardcover collects the main storyline of the recent company-wide crossover. Its retail price is $75, and oddly enough, that's likely to be what's driving sales of the book. My guess would be that most copies are being sold through Amazon, where as of this writing the book is discounted to $44.50. It contains 23 comics, so it's a good deal. Marvel advertised this as being a limited edition, suggesting that they were not going to go back for a second print run. (Not surprising considering the printing costs involved!) But if sales maintain at this level, it's a safe bet that this edition won't be so limited after all.
BookScan Top 20 Graphic Novels in November 2012

Rank

Title

Author

Publisher

1

THE WALKING DEAD COMPENDIUM VOL. 2

ROBERT KIRKMAN

IMAGE COMICS

2

THE WALKING DEAD COMPENDIUM VOL. 1

ROBERT KIRKMAN

IMAGE COMICS

3

BUILDING STORIES HC

CHRIS WARE

PANTHEON BOOKS

4

SUPERMAN: EARTH ONE VOL. 2 HC

J. MICHAEL STRACZYNSKI

DC COMICS

5

AVENGERS VS. X-MEN HC

BENDIS, AARON, BRUBKAER, HICKMAN

MARVEL COMICS

6

THE WALKING DEAD VOL. 17

ROBERT KIRKMAN

IMAGE COMICS

7

NARUTO VOL. 59

MASASHI KISHIMOTO

VIZ MEDIA

8

THE WALKING DEAD VOL. 1

ROBERT KIRKMAN

IMAGE COMICS

9

SAILOR MOON VOL. 8

NAOKO TAKEUCHI

KODANSHA COMICS

10

ROSARIO + VAMPIRE: SEASON 2 VOL. 10

AKISHA IKEDA

VIZ MEDIA

11

THE WALKING DEAD BOOK 1 HC

ROBERT KIRKMAN

IMAGE COMICS

12

MARVEL AVENGERS: THE ULTIMATE CHARACTER GUIDE HC

ALAN COWSILL

DK PUBLISHING

13

THE WALKING DEAD BOOK 8 HC

ROBERT KIRKMAN

IMAGE COMICS

14

VAMPIRE KNIGHT VOL. 15

MATSURI HINO

VIZ MEDIA

15

THE WALKING DEAD VOL. 2

ROBERT KIRKMAN

IMAGE COMICS

16

AVATAR: THE LAST AIRBENDER: THE PROMISE PART 3

GENE YANG

DARK HORSE

17

DC COMICS: THE ULTIMATE CHARACTER GUIDE HC

BRANDON SNIDER

DK PUBLISHING

18

BLUE EXORCIST VOL. 8

KAZUE KATO

VIZ MEDIA

19

THE WALKING DEAD VOL. 3

ROBERT KIRKMAN

IMAGE COMICS

20

ALICE IN THE COUNTRY OF CLOVER: CHESHIRE CAT WALTZ VOL. 3

QUINROSE

SEVEN SEAS
The first manga shows up at #7, and it's no shock that it's the latest volume of
Naruto
from VIZ Media. Following that same theme is the appearance of Kodansha's newest
Sailor Moon
in position #9, and then VIZ's
Rosario + Vampire
at #10. VIZ also has
Vampire Knight
at #14 and
Blue Exorcist
at #18, and then the last volume of manga to appear on the list is Seven Seas'
Alice in the Country of Clover
in the 20th position. That makes six volumes of manga total, with only two in the top 10, a relatively weak showing for the category. But that's to be expected in a month of holiday shopping; books like
The Walking Dead
and
Building Stories
are good gifts, while the latest volume of a manga series is usually something you buy for yourself, so it gets no boost from the holiday buying season.
Dark Horse continues to succeed with its latest
Avatar: The Last Airbender
book by Gene Yang, while DK Publishing has two books in the game this month on the strength of that holiday gift-giving I just mentioned. First is their
Avengers
guide, a regular on the top 20 list in 2012. This month it's joined by
DC Comics: The Ultimate Character Guide
. Curiously, the latter book released in summer of 2011, so it's a bit of a mystery why it's jumped up the list this month.
For those keeping track at home, the clear winner this month was Image Comics with eight
The Walking Dead
releases, followed by VIZ with four of their most popular manga series. DK has two books on the list, while Dark Horse, DC, Kodansha, Marvel, Pantheon and Seven Seas all have one each.
Next month look for
The Walking Dead
to continue to dominate the list, including the release of the fourth large omnibus, while the December 18 release of
DC Comics: The New 52 Zero Omnibus
should place well for at least a month. In addition, there's a new
Maximum Ride
manga from Yen Press that should be in the list.
For past BookScan Top 20 Graphic Novel lists, see the "
BookScan Top 20 GNs Index
."
--
Dallas Middaugh
[Disclosure: Dallas Middaugh is the director of publishing services for Random House Publisher Services. RHPS provides distribution and other services for several graphic novel clients, including DC Comics, Kodansha Comics, Archie Comics, and Vertical. He has also worked with or for Viz Media, Oni Press, and Slave Labor Graphics, and he co-founded Seven Seas.]