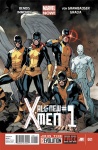 Fueled by the release of Marvel Now! debut issues for eight of its top properties, Marvel Comics dominated sales in November. With the help of the second installment of another Marvel NOW! title,
Uncanny Avengers
, which topped the charts with its debut last month (see "
'Uncanny Avengers' Debuts on Top
"), Marvel took eight of the ten spots in November and solidified the major marketshare advantage over DC Comics that the House of Ideas reestablished in October. Marvel's top title was the Brian Michael Bendis-penned
All New X-Men
, which like fellow Marvel NOW! titles
Iron Man
,
Deadpoo
l, and
Thor God of Thunder
, shipped two issues during November.
The number of titles with circulations of over 100K went from 5 in October to 10 in November, largely because of the influx of new titles. This is by far the most titles with circulations over 100K in over five years (there were 12 books in the 100,000 Club in July of 2007). As ICv2 explained in "
Comics Down in November
," the fact that overall sales of comics and graphic novels were down 1.1% in November is a very misleading statistic that obscures the real growth in sales of periodical comics during the month. Year-over-year sales of pamphlet format comics was actually up 3.5% in November--a remarkable feat given that there were five ship weeks in November of 2011 versus just 4 ship weeks in November of 2012. Of course a large part of the strong sales in November has to be attributed to the launch of a plethora of new titles, eleven of which made it into the Top 25. Marvel backed the launch of its Marvel NOW! reboots with plenty of incentive covers, and got the new imprint off to a solid start. The question over the coming months will be, whether the House of Ideas will be able to maintain and build on the momentum generated by the Marvel NOW! launch during the coming months, which won't see the launching of so many key new Marvel NOW! books during any single month.
Ten titles posted circulation drops in November, while four books including Scott Snyder's Batman, which continues to gain sales as the current "Death of a Family" saga unfolds, managed substantial gains in circulation. Two other Batbooks, Batgirl , which had a direct tie-in to Snyder's "Death of a Family" Batman storyline, and Batman and Robin, which was also supposed to have "Death of a Family" component, but didn't (and is returnable), also posted major gains over October along with Marvel's Amazing Spider-Man, which is building towards a major narrative climax in the milestone issue #700.
Although Robert Kirkman's
The Walking Dead
managed to dominate bookstore graphic novel sales (see "
Nothing Can Stop 'The Walking Dead'
"), and Vol. 17 in Kirkman's long-running series easily topped the direct market graphic novel sales charts, selling 3 times as many copies as its nearest competitor, the latest
The Walking Dead
periodical comic (#104) suffered a substantial drop in circulation and dropped from #9 in October to #35 in November.
However there were two notable non-Marvel or DC titles in the Top 25 in November, IDW's debut issued of a comic book based on the popular kids' toy franchise My Little Pony, which was aided by 6 different cover designs, and Dynamite Entertainment's Masks #1, the first issue of the publisher's crossover series featuring its lineup of vintage pulp heroes including The Spider, Green Hornet, Kato, The Shadow, Miss Fury, Black Bat, and Zorro.
Things were not quite as rosy on the graphic novel side where there was no equivalent of the onslaught of new #1 titles to boost circulation. Year-over-year graphic novel sales were down nearly 11%, but there were some bright spots including the strong performance of The Walking Dead, Vol. 17. Three of the top five graphic novel sellers in November, Fables: Werewolves of the Heartland, Fairest: Wide Awake, and The Girl With the Dragon Tattoo HC were from DC Comics' Vertigo imprint, which continues to supply the nation's oldest comic book publisher with solid sales in the graphic novel arena.
Mention should be made of BOOM! Studio's Adventure Time graphic novel, which is based on the popular Cartoon Network series that is a big hit with both kids and parents. Debuting at #3 with sales of more than 7,200 copies definitely indicates that this graphic novel franchise is off to a very solid start.
Not only did Image have Kirkman's The Walking Dead topping the graphic novel list, another Image title, Brian K. Vaughan and Fiona Staples' Saga, which was the #2 book in October, remained on the list at #13, yet another sign that this creator-owned science fiction series is developing a major following. Last month's #1 direct market graphic novel, DC's Superman Earth One Vol. 2 HC, also made it back on the list, but it fell to #20.
The bestselling manga title in the direct market in November was Viz Media's Naruto Vol. 59, which ended up at #15, well ahead of its nearest competitor, Kodansha's Sailor Moon Vol. 8, which landed at #21.
Here are ICv2's estimates of the direct market North American sales of the "Top 25" comics sold through Diamond Comic Distributors in November of 2012:
181,693 All New X-Men #1
159,729 Batman #14
123,667 Captain America #1
118,976 Deadpool #1
118,200 Indestructible Hulk #1
116,529 Iron Man #1
114,532 Fantastic Four #1
114,257 Uncanny Avengers #2
113,094 Justice League #14
110,443 Thor God of Thunder #1
96,436 All New X-Men #2
87,081 X-Men Legacy #1
81,342 Amazing Spider-Man #698
80,701 FF #1
80,128 My Little Pony Friendship Is Magic #1
78,499 Green Lantern #14
77,468 Batgirl #14
75,543 Batman and Robin #14
74,560 Detective Comics #14
72,902 Iron Man #2
67,421 Deadpool #2
65,553 Thor God of Thunder #2
64,406 A Plus X #2
64,341 Action Comics #14