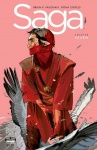 Image has reversed its no-reprint decision on Saga #7 and will be offering the second printing at promotional discounts to encourage bigger orders, Image publisher Eric Stephenson announced today. Retailers ordering over 25 copies of the second printing will receive an 80% discount, and orders under that quantity will receive the normal max discount on Image titles. Stephenson also said that if Saga #8, which has already passed the Final Order Cut-off Date, also sells out, it will also be reprinted.
Stephenson was reacting to the blowback from Image's announcement (after
Saga
#7 sold out) that it would no longer reprint
Saga
and similar titles on which there was an ongoing pattern of sell-outs (see "
Image Ends Reprints on Some Titles
"). Some retailers noted that Image was just as culpable in the repeated sell-outs as retailers were: everyone was underestimating the demand for the book. And there was also push-back on the timing of the announcement, after the sell-out of the first issue in a new story arc and the collection of the first arc, a natural jumping-on point for new readers.
He apologized for the tone of the original announcement that reprints would be curtailed. "For those of you who found the tone of that newsletter condescending or abrasive--you have my apologies. In communicating my frustrations to Jen, that inadvertently got passed down to you, and that shouldn't have been the case." He also apologized for the lack of notice on the new policy. "We also should have given you more of a heads up on how we were handling this, so that you weren't completely blindsided by a sudden change in policy and again, that's on me," Stephenson said.
Stephenson promised a more complete reorder policy in the near future, but warned, "...we cannot reprint every issue of this series on an indefinite basis," urging retailers to check their orders on Saga #9 before Final Order Cut-off.