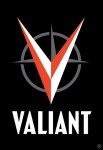 Co-founder and Chief Creative Officer Dinesh Shamdasani has been appointed Valiant Entertainment Chief Executive Officer, the company announced. Shamdasani will keep his current duties in addition to assuming the role of CEO.

Co-founder Jason Kothari, who's served as CEO since the company's founding in 2007, will take a new role as Vice Chairman.

The company's launch year went well, according to chairman Peter Cuneo. "Valiant had a stellar year in 2012--one that exceeded all of our internal targets and broader expectations in the industry at large," he said.