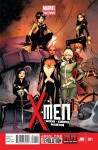 An all-new Marvel NOW! X-Men series will launch in April with X-Men #1. The ongoing series, written by Brian Wood (Ultimate Comics X-Men) and drawn by Oliver Coipel (Avengers VS. X-Men), features a mutant lineup comprised entirely of females: April, Storm, Rogue, Jubilee, Kitty Pryde, Rachel Grey, Rogue, and Psylocke.
The all-woman group must formulate a plan of action when an old enemy appears at their doorstep, seeking refuge from an ancient foe. Complicating matters is Jubilee, who brings home "an orphaned baby who might hold the key to the Earth's survival."
Marvel has also given more information on the new storyline in
Thunderbolts
(see "
'Thunderbolts' #1 set for December
"), which is getting a new artist with issue #7, also releasing in April. Phil Noto (
Uncanny X-Force
) joins writer Daniel Way as the Punisher, Deadpool, Red Hulk, Elektra, and Venom battle evil robots (see "
March, April Marvel NOW! Teases
"). The issue will advance the contentious (and apparently romantic) relationship between Punisher and Elektra.
Like all Marvel NOW titles, X-Men #1 and Thunderbolts #7 will feature special "augmented reality" content available exclusive through the Marvel AR app, including cover recaps and behind-the-scenes information. X-Men #1 will also include a code for a free digital copy.
--Brett Weiss