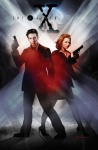 IDW Publishing has announced an agreement with Twentieth Century Fox Licensing that will allow IDW to reprint various iterations of the X-Files comic books published from 1995 to 2009 by Topps Comics and Wildstorm as well as to create a new ongoing X-Files comic book series that will debut in June of 2013. The new comic book series will pick up the X-Files narrative and continuity after the end of the second X-Files movie.
The paranoia-infused adventures of Agents Mulder and Scully were a major phenomenon during the late 1990s driven by the popularity of the original X-Files TV series, which lasted for an impressive two hundred and two episodes, which were followed by two theatrically-released movies, the last of which was released in 2003.
The X-Files comics joins a long list of licensed properties at IDW, which had demonstrated an ability to create viable ongoing series from vintage properties such as Doctor Who, Star Trek, Transformers, and G.I. Joe.