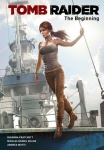 Square Enix studio Crystal Dynamics and Dark Horse Comics have partnered to produce a Best Buy-exclusive Tomb Raider comic tied to the March 5 release of the latest video game in the franchise, Tomb Raider, which chronicles Lara Croft's origin story after being stranded as the sole survivor on an island in the Dragon's Triangle. Tomb Raider: The Beginning, a 48-page, six-part hardcover, is the first installment in a new, ongoing series. It will be a free-with for consumers that pre-order the Tomb Raider game at Best Buy.

No word on whether or when the book will be released to the trade, or when the new ongoing series will kick off.
Not since the Bandai Entertainment series in 2006 have readers had a Tomb Raider comic. Intended as a prequel to the video game, Tomb Raider: The Beginning is authored by lead game-writer Rhianna Pratchett. Pratchett previously worked on a series for Wildstorm based on the Mirror's Edge game (which she also wrote) in 2008. Artists Nicolas Daniel Selma and Andrea Mutti (Saucer Country, Star Wars: Lost Tribe of the Sith Spiral) will be handling the illustrations.
Centering on the final voyage of
The Endurance
to discover a lost Japanese kingdom,
Tomb Raider: The Beginning
chronicles Croft's origins as an adventurer. The Spring release of the video game may also yield information about the currently in-development
Tomb Raider
film also hinted at for a 2013 release (see "
GK Films Rebooting 'Tomb Raider'
").
--Nathan Wilson