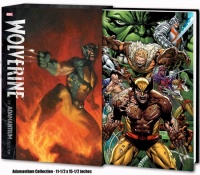 Marvel Comics has announced the June release of Wolverine: The Adamantium Collection, a 16-pound, 720-page, slip-cased hardcover collection with a cover price of $200 that traces the transformation of the sickly James Howlett into the ferocious Wolverine, long one of the fans' favorite X-Men characters. The massive volume will be published just a month before the release of Fox's The Wolverine movie directed by James Mangold.
This volume contains Logan's greatest comic adventures including Wolverine Origin by Paul Jenkins and Adam Kubert, Wolverine Weapon X by Barry Windsor Smith, Wolverine: Not Dead Yet by Warren Ellis and Leinil Yu, plus Wolverine and the X-Men by Jason Aaron and Chris Bachalo and classic Wolvie stories by Larry Hama, Mark Millar, Jim Lee, and Kaare Andrews.
The massive Wolverine volume also includes the 1982 limited series Wolverine by Chris Claremont and Frank Miller that is the basis for Mangold's The Wolverine movie, which is due to be released nationwide on July 26th, 2013.