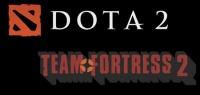 NECA/WizKids has acquired a license from electronic game developer Valve to produce new collectibles and non-electronic games based on Team Fortress 2 and Dota 2. Products based on both are scheduled to release this summer.
The new NextChess game will feature sculpted chess pieces based on the Team Fortress 2 characters, designed by the artists at Valve. Players will be able to customize their game using the Team Fortress classes as chess pieces. NextChess will also feature "hat toppers" for the playing pieces. A piece can capture an opponent's hat to gain that piece's movement abilities.
Dota 2 will be an expansion to WizKids' popular HeroClix game system. There will be two five-figure sets, followed by a 24-figure Gravity Feed display.
The two new games will be previewed at next week's New York Toy Fair.