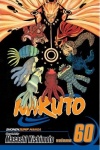 The 60th volume of Viz's
Naruto
was the top-selling graphic novel in bookstores in February, according to the "Top 20 Graphic Novels" sold in the book channel, provided exclusively to ICv2 by Nielsen BookScan. The 9th volume of Kodansha's
Sailor Moon
actually rose in its second month, to #4. That makes February the best showing for manga in the Top 5 since last September, when
Sailor Moon
was #1 and
Naruto
#2. There were three manga in the Top Ten, and five in the Top 20.
The Walking Dead
was stronger than last month's dip (see "
'Walking Dead' Loosens Hold in Bookstores
"), with eight of the Top 10 in February, up from six the previous month.
Saga
Vol. 1 is hanging on in Top 20, which means that Image had nine of the top 20 adult graphic novels in bookstores in February.
Three of the remaining titles were DC's, including the new
Justice League
hardcover collection and the
Batman: Night of the Owls
hardcover collection.
The adaptation of
The Book of Revelation
is hanging in the Top 20, with
Building Stories
and
Fun Home
rounding out the roster.
BookScan Top 20 Graphic Novels in February 2013

Rank

Title

Author

Publisher

1

NARUTO VOL. 60

MASASHI KISHIMOTO

VIZ MEDIA

2

THE WALKING DEAD COMPENDIUM VOL. 1

ROBERT KIRKMAN

IMAGE COMICS

3

THE WALKING DEAD COMPENDIUM VOL. 2

ROBERT KIRKMAN

IMAGE COMICS

4

SAILOR MOON VOL. 9

NAOKO TAKEUCHI

KODANSHA COMICS

5

THE WALKING DEAD VOL. 17

ROBERT KIRKMAN

IMAGE COMICS

6

FUN HOME: A FAMILY TRAGICOMIC

ALISON BECHDEL

MARINER BOOKS

7

THE WALKING DEAD VOL. 1

ROBERT KIRKMAN

IMAGE COMICS

8

JUSTICE LEAGE VOL. 2

GEOFF JOHNS

DC COMICS

9

THE WALKING DEAD BOOK 1 HC

ROBERT KIRKMAN

IMAGE COMICS

10

BLEACH VOL. 55

TITE KUBO

VIZ MEDIA

11

THE WALKING DEAD VOL. 2

ROBERT KIRKMAN

IMAGE COMICS

12

BATMAN: NIGHT OF THE OWLS HC

VARIOUS

DC COMICS

13

THE BOOK OF REVELATION

CHRIS KOELLE

ZONDERVAN

14

JUSTICE LEAGUE VOL. 1

GEOFF JOHNS

DC COMICS

15

ALICE IN THE COUNTRY OF JOKER: CIRCUS AND LIAR'S GAME VOL. 1

QUINROSE

SEVEN SEAS

16

SAGA VOL. 1

BRIAN K. VAUGHAN

IMAGE COMICS

17

THE WALKING DEAD VOL. 3

ROBERT KIRKMAN

IMAGE COMICS

18

BUILDING STORIES HC

CHRIS WARE

PANTHEON BOOKS

19

BLACK BUTLER VOL. 12

YANA TOBOSO

YEN PRESS

20

THE WALKING DEAD BOOK 2 HC

ROBERT KIRKMAN

IMAGE COMICS