Rolling for Initiative is a weekly column by Scott Thorne, PhD, owner of Castle Perilous Games & Books in Carbondale, Illinois and instructor in marketing at Southeast Missouri State University. This week, Thorne says good-bye to Phyllis Opolko, looks at the upcoming pre-release for Kaijudo, and comments on a couple of game packaging design issues.
If you worked in the gaming or comics industry, you knew Phyllis Opolko, senior marketing manager at Alliance Distribution. I had the pleasure of knowing her for several years, mainly in conjunction with the annual Alliance Open House, for which she recruited me to speak several times. More than anything else, I remember her for the annual charity auction at the Open House. She always managed to convince companies to donate all sorts of cool items to the auction which raised thousands of dollars for the CBLDF, among other organizations, and would oversee the tables of items laid out, always smiling whenever she saw someone increasing a bid on an item.
Good-bye Phyllis, you will be missed.
Wizards of the Coast is once again pushing the re-launch of Dual Masters, now called Kaijudo, with a pre-release event for the set on March 16th. The game has not gotten much traction here but we will see how giving out free decks and promo cards does to jumpstart it (again). WotC first launched Dual Masters back in the early part of the last decade with a huge promotional event including multiple free booster tournaments but the game quickly disappeared nationally (rather like Break Key) once the freebies did.
Pity, as it is a pretty good game, combining aspects of both Magic: The Gathering and Pokemon (making it one of the top selling games in its home country of Japan). However, it lacks both the complexity of Magic and the cute factor of Pokemon, which may be why it didn't take off here the first time. In general, marketing research shows there is only room for two top products in a category. In the CCG area, those spots, in the specialty game channel, are held by Magic and Yu-Gi-Oh! and in the mass channel, it's Pokemon and Magic. Kajuido will find either one tough to displace.
We received a copy of Nick Pace Entertainment's Raiding Parties game through Impressions Advertising and Marketing's demo game program (and if you sell board and card games and have not signed up for this program, rectify that now. For $30 we received a 3 foot stack of demo copies of new and recently released board and card games from Impressions clients, retail value over $350). Raiding Parties is a fun game, according to both the reviews on the box and various Websites and our in-store play, though Set One got lousy reviews due to the vagueness of the rules included in the box.
This leads to two problems with the packaging of Raiding Parties that game designers would do well to avoid. First, as noted above, there is a Set One to the game. For gameplay, that does not really matter since Set One, Golden Age, and Set Two--Brethren of the Coast, stand on their own as games but a customer looking at the box would have no idea the Golden Age set existed.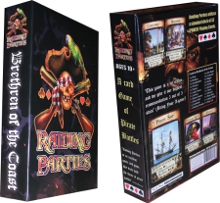 More importantly, Raiding Parties requires a standard 52-card deck of playing cards in order to play. Golden Age comes with a set of "Hit the Deck" pirate playing cards. Brethren of the Coast has a note on the back: "Raiding Parties utilizes a standard deck of 52 (Poker) Playing Cards." It took us quite a while to realize this meant we would need to provide a deck of playing cards in order to play the game.
If you are a game manufacturer, help us to sell your games. Let customers know, as Slugfest Games does with Red Dragon Inn 1, 2 and 3, that there are expansions as well as stand-alone versions for your game and clearly indicate, as Cheapass Games did/does, if your game needs additional components beyond what you include in the box. You will help us sell your game much more readily.
The opinions expressed in this column are solely those of the writer, and do not necessarily reflect the views of the editorial staff of ICv2.com.