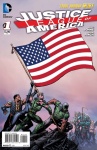 These are estimates of the sales on comic books by Diamond
U.S.
to comic specialty stores during February 2013.

For an overview and analysis of comic sales in February, see "52 Variants Garner Million Dollar Book."

For an analysis of the dollar trends in February, see "Comic Market Continues Growth."

For our estimates of actual sales by Diamond U.S. from comic specialty stores on graphic novels shipped during February, see "Top 300 Graphic Novels Actual--February 2013."
TOP 300 COMICS – February 2013

Rank

Index

Title

Price

Pub

Est.Qty

1

204.22

JUSTICE LEAGUE OF AMERICA #1

$3.99

DC

307,734

2

117.77

UNCANNY X-MEN #1

$3.99

MAR

177,463

3

100.00

BATMAN #17

$3.99

DC

150,684

4

69.88

JUSTICE LEAGUE #17

$3.99

DC

105,304

5

67.57

SUPERIOR SPIDER-MAN #3

$3.99

MAR

101,811

6

63.64

SUPERIOR SPIDER-MAN #4

$3.99

MAR

95,892

7

62.79

UNCANNY X-MEN #2

$3.99

MAR

94,615

8

58.09

UNCANNY AVENGERS #4

$3.99

MAR

87,539

9

56.96

DETECTIVE COMICS #17

$3.99

DC

85,824

10

56.59

SECRET AVENGERS #1

$3.99

MAR

85,267

11

56.56

ALL NEW X-MEN #7

$3.99

MAR

85,234

12

56.32

AVENGERS #6

$3.99

MAR

84,868

13

54.72

AVENGERS #5

$3.99

MAR

82,452

14

53.66

NOVA #1

$3.99

MAR

80,857

15

53.32

GUARDIANS OF GALAXY #0.1

$3.99

MAR

80,344

16

47.86

NEW AVENGERS #3

$3.99

MAR

72,110

17

47.16

GREEN LANTERN #17

$2.99

DC

71,060

18

43.64

BATGIRL #17

$2.99

DC

65,751

19

42.19

WALKING DEAD #107 (MR)

$2.99

IMA

63,575

20

41.22

NIGHTWING #17

$2.99

DC

62,107

21

40.47

BATMAN AND ROBIN #17

$2.99

DC

60,988

22

38.87

AQUAMAN #17

$2.99

DC

58,578

23

38.66

SAVAGE WOLVERINE #2

$3.99

MAR

58,254

24

38.03

DEADPOOL #5

$2.99

MAR

57,312

25

37.95

ACTION COMICS #17

$3.99

DC

57,189

26

37.64

UNCANNY X-FORCE #2

$3.99

MAR

56,713

27

37.31

INDESTRUCTIBLE HULK #4

$3.99

MAR

56,214

28

37.16

BATMAN THE DARK KNIGHT #17

$2.99

DC

55,990

29

36.77

BATMAN INCORPORATED #8

$2.99

DC

55,414

30

35.63

FEARLESS DEFENDERS #1

$2.99

MAR

53,688

31

35.25

CAPTAIN AMERICA #4

$3.99

MAR

53,112

32

35.22

RED HOOD AND THE OUTLAWS #17

$2.99

DC

53,076

33

34.42

THOR GOD OF THUNDER #5

$3.99

MAR

51,861

34

34.08

WALKING DEAD THE GOVERNOR SPECIAL (MR)

$2.99

IMA

51,355

35

32.75

AMAZING SPIDER-MAN #700

$7.99

MAR

49,355

36

32.11

SAGA #10 (MR)

$2.99

IMA

48,388

37

31.99

EARTH 2 #9

$2.99

DC

48,208

38

30.66

IRON MAN #6

$3.99

MAR

46,206

39

30.60

CABLE AND X-FORCE #4

$3.99

MAR

46,104

40

30.57

STAR WARS #2

$2.99

DAR

46,063

41

29.90

WOLVERINE AND X-MEN #25

$3.99

MAR

45,057

42

29.86

FANTASTIC FOUR #4

$2.99

MAR

44,999

43

29.53

GREEN LANTERN CORPS #17

$2.99

DC

44,497

44

29.46

BEFORE WATCHMEN COMEDIAN #5 (MR)

$3.99

DC

44,393

45

28.92

MY LITTLE PONY FRIENDSHIP IS MAGIC #3

$3.99

IDW

43,579

46

28.91

YOUNG AVENGERS #2

$2.99

MAR

43,559

47

28.73

THUNDERBOLTS #4

$2.99

MAR

43,287

48

28.72

BEFORE WATCHMEN DR MANHATTAN #4 (MR)

$3.99

DC

43,273

49

28.49

FLASH #17

$2.99

DC

42,936

50

28.06

GREEN LANTERN NEW GUARDIANS #17

$2.99

DC

42,285

51

27.65

THUNDERBOLTS #5

$2.99

MAR

41,663

52

26.26

HIT-GIRL #5 (MR)

$4.99

MAR

39,569

53

26.01

TEEN TITANS #17

$2.99

DC

39,186

54

25.95

WONDER WOMAN #17

$2.99

DC

39,110

55

24.67

DAREDEVIL #23

$2.99

MAR

37,170

56

24.49

HAWKEYE #8

$2.99

MAR

36,898

57

23.92

GREEN ARROW #17

$2.99

DC

36,043

58

23.79

DEADPOOL KILLUSTRATED #2

$2.99

MAR

35,846

59

23.78

RED LANTERNS #17

$2.99

DC

35,839

60

23.77

FF #4

$2.99

MAR

35,815

61

23.53

ULTIMATE COMICS SPIDER-MAN #20

$3.99

MAR

35,461

62

22.85

MY LITTLE PONY MICRO SERIES #1 TWILIGHT SPARKLE

$3.99

IDW

34,435

63

22.31

AVENGERS ARENA #4

$2.99

MAR

33,611

64

22.06

LEGEND O/T SHADOWCLAN #1

$1.00

ASP

33,246

65

21.60

AVENGERS ARENA #5

$2.99

MAR

32,548

66

21.56

X-MEN #41

$3.99

MAR

32,488

67

21.33

SECRET AVENGERS #37

$3.99

MAR

32,139

68

21.26

BATWOMAN #17

$2.99

DC

32,041

69

20.90

SWAMP THING #17

$2.99

DC

31,497

70

20.62

X-MEN LEGACY #6

$2.99

MAR

31,074

71

20.43

AVENGING SPIDER-MAN #17

$3.99

MAR

30,783

72

20.04

CATWOMAN #17

$2.99

DC

30,194

73

20.01

SUPERGIRL #17

$2.99

DC

30,146

74

19.56

AVENGERS ASSEMBLE #12

$3.99

MAR

29,475

75

19.53

ANIMAL MAN #17

$2.99

DC

29,425

76

18.80

WORLDS FINEST #9

$2.99

DC

28,332

77

18.58

TALON #5

$2.99

DC

28,003

78

17.95

JUSTICE LEAGUE OF AMERICAS VIBE #1

$2.99

DC

27,051

79

17.94

AVENGERS ASSEMBLE ANNUAL #1

$4.99

MAR

27,028

80

17.93

KATANA #1

$2.99

DC

27,021

81

17.77

DAREDEVIL END OF DAYS #5

$3.99

MAR

26,777

82

17.76

SUPERBOY #17

$2.99

DC

26,762

83

17.68

HAPPY #4 (MR)

$2.99

IMA

26,641

84

17.50

SUICIDE SQUAD #17

$2.99

DC

26,370

85

17.15

JUSTICE LEAGUE DARK #17

$2.99

DC

25,841

86

17.08

MORBIUS LIVING VAMPIRE #2

$2.99

MAR

25,735

87

16.18

SCARLET SPIDER #14

$2.99

MAR

24,388

88

16.06

ASTONISHING X-MEN #59

$3.99

MAR

24,195

89

15.82

HELLBOY IN HELL #3

$2.99

DAR

23,845

90

15.80

ULTIMATE COMICS ULTIMATES #21

$3.99

MAR

23,811

91

15.56

VENOM #31

$2.99

MAR

23,441

92

15.15

PUNISHER WAR ZONE #5

$2.99

MAR

22,824

93

15.12

ALPHA BIG TIME #1

$2.99

MAR

22,778

94

14.95

BTVS SEASON 9 FREEFALL #18

$2.99

DAR

22,530

95

14.91

ADVENTURE TIME #13

$3.99

BOO

22,474

96

14.90

ULTIMATE COMICS X-MEN #22

$3.99

MAR

22,456

97

14.73

WINTER SOLDIER #15

$2.99

MAR

22,199

98

14.73

ULTIMATE COMICS X-MEN #23

$3.99

MAR

22,197

99

14.67

BIRDS OF PREY #17

$2.99

DC

22,112

100

14.65

WOLVERINE MAX #4 (MR)

$3.99

MAR

22,072

101

14.00

X-FACTOR #251

$2.99

MAR

21,096

102

13.96

LEGENDS OF THE DARK KNIGHT #5

$3.99

DC

21,041

103

13.91

YOUNG ROMANCE NEW 52 VALENTINES DAY SPECIAL #1

$7.99

DC

20,963

104

13.89

X-FACTOR #252

$2.99

MAR

20,929

105

13.84

GAMBIT #9

$2.99

MAR

20,851

106

13.81

ADVENTURE TIME FIONNA & CAKE #2

$3.99

BOO

20,810

107

13.32

JOURNEY INTO MYSTERY #649

$2.99

MAR

20,064

108

12.81

SHADOW YEAR ONE #1

$3.99

DE

19,310

109

12.20

THRESHOLD #2

$3.99

DC

18,389

110

12.18

CAPTAIN MARVEL #10

$2.99

MAR

18,359

111

12.09

DARK AVENGERS #187

$2.99

MAR

18,213

112

11.97

PHANTOM STRANGER #5

$2.99

DC

18,032

113

11.94

FATALE #12 (MR)

$3.50

IMA

17,999

114

11.79

RED SHE-HULK #62

$2.99

MAR

17,766

115

11.71

AGE OF APOCALYPSE #12

$2.99

MAR

17,643

116

11.65

GI JOE #1

$3.99

IDW

17,553

117

11.57

STAR WARS #1

$2.99

DAR

17,441

118

11.55

ALL STAR WESTERN #17

$3.99

DC

17,398

119

11.43

MANHATTAN PROJECTS #9

$3.50

IMA

17,229

120

11.33

INJUSTICE GODS AMONG US #2

$3.99

DC

17,068

121

11.30

BATMAN BEYOND UNLIMITED #13

$3.99

DC

17,025

122

11.30

SMALLVILLE SEASON 11 #10

$3.99

DC

17,024

123

11.10

GARTH ENNIS RED TEAM #1 (MR)

$3.99

DE

16,724

124

11.04

REVIVAL #7

$2.99

IMA

16,639

125

10.97

SCARLET #6 (MR)

$3.95

MAR

16,528

126

10.90

SUPERIOR SPIDER-MAN #1

$3.99

MAR

16,427

127

10.85

SPAWN #228

$2.99

IMA

16,343

128

10.78

LEGION OF SUPER HEROES #17

$2.99

DC

16,242

129

10.73

TMNT ONGOING #18

$3.99

IDW

16,172

130

10.71

FAIREST #12 (MR)

$2.99

DC

16,141

131

10.70

TMNT ONGOING #19

$3.99

IDW

16,125

132

10.42

BATMAN ARKHAM UNHINGED #11

$2.99

DC

15,703

133

10.27

FABLES #126 (MR)

$2.99

DC

15,480

134

10.11

BUFFY THE VAMPIRE SLAYER WILLOW WONDERLAND #4

$2.99

DAR

15,236

135

9.94

THIEF OF THIEVES #12 (MR)

$2.99

IMA

14,974

136

9.83

X-TREME X-MEN #10

$2.99

MAR

14,813

137

9.78

MASKS #4

$3.99

DE

14,744

138

9.75

HARBINGER #0

$3.99

VAL

14,699

139

9.75

POWERS BUREAU #1 (MR)

$3.95

MAR

14,698

140

9.70

X-TREME X-MEN #11

$2.99

MAR

14,623

141

9.62

STAR TREK COUNTDOWN TO DARKNESS #2

$3.99

IDW

14,492

142

9.58

GHOSTBUSTERS #1

$3.99

IDW

14,442

143

9.56

ANGEL & FAITH #19

$2.99

DAR

14,412

144

9.50

STAR WARS DARK TIMES FIRE CARRIER #1

$2.99

DAR

14,308

145

9.44

RAVAGERS #9

$2.99

DC

14,223

146

9.39

STAR WARS DAWN O/T JEDI PRISONER OF BOGAN #3

$2.99

DAR

14,145

147

9.23

BEDLAM #4 (MR)

$3.50

IMA

13,912

148

9.06

STORMWATCH #17

$2.99

DC

13,657

149

9.01

DEMON KNIGHTS #17

$2.99

DC

13,571

150

8.99

DJANGO UNCHAINED #2 (MR)

$3.99

DC

13,554

151

8.99

DIAL H #9

$2.99

DC

13,541

152

8.96

X-O MANOWAR #10

$3.99

VAL

13,504

153

8.85

SNAPSHOT #1

$2.99

IMA

13,337

154

8.82

FURY MAX #9 (MR)

$3.99

MAR

13,283

155

8.63

TEAM 7 #5

$2.99

DC

13,005

156

8.63

CONAN THE BARBARIAN #13

$3.50

DAR

13,000

157

8.54

TMNT SECRET FOOT CLAN #3

$3.99

IDW

12,868

158

8.53

JSA LIBERTY FILES THE WHISTLING SKULL #3

$2.99

DC

12,851

159

8.45

DOCTOR WHO PRISONERS OF TIME #2

$3.99

IDW

12,730

160

8.44

DARK TOWER GUNSLINGER SHEEMIES TALE #2

$3.99

MAR

12,723

161

8.38

DEATHSTROKE #17

$2.99

DC

12,626

162

8.36

BATWING #17

$2.99

DC

12,595

163

8.35

SON OF MERLIN #1

$1.00

IMA

12,575

164

8.32

SHADOWMAN #4

$3.99

VAL

12,531

165

8.31

HELLBLAZER #300 (MR)

$4.99

DC

12,522

166

8.29

ROCKETEER HOLLYWOOD HORROR #1

$3.99

IDW

12,488

167

8.21

SAVAGE HAWKMAN #17

$2.99

DC

12,376

168

8.19

AME COMI GIRLS #5 FEATURING SUPERGIRL

$3.99

DC

12,343

169

8.19

SWORD OF SORCERY #5

$3.99

DC

12,334

170

8.11

HARBINGER #9

$3.99

VAL

12,222

171

7.95

DC UNIVERSE PRESENTS #17

$2.99

DC

11,985

172

7.85

I VAMPIRE #17

$2.99

DC

11,833

173

7.69

ARROW #4

$3.99

DC

11,581

174

7.67

BLOODSHOT #8

$3.99

VAL

11,557

175

7.64

JUDGE DREDD #4

$3.99

IDW

11,512

176

7.63

ARCHER & ARMSTRONG #7

$3.99

VAL

11,494

177

7.37

STAR WARS AGENT O/T EMPIRE HARD TARGETS #5

$2.99

DAR

11,103

178

7.37

FURY OF FIRESTORM THE NUCLEAR MAN #17

$2.99

DC

11,100

179

7.12

FAIRY QUEST #1

$3.99

BOO

10,728

180

7.07

AMERICAS GOT POWERS #5

$2.99

IMA

10,660

181

7.02

DOCTOR WHO VOL 3 #6

$3.99

IDW

10,579

182

6.87

TRANSFORMERS SPOTLIGHT MEGATRON ONE SHOT

$3.99

IDW

10,356

183

6.85

STAR TREK ONGOING #17

$3.99

IDW

10,321

184

6.82

DOCTOR WHO VOL 3 #5

$3.99

IDW

10,271

185

6.81

BPRD HELL ON EARTH #104 ABYSS TIME #2

$3.50

DAR

10,269

186

6.78

STAR TREK ONGOING #18

$3.99

IDW

10,210

187

6.75

BPRD 1948 #5

$3.50

DAR

10,172

188

6.72

LOCKE & KEY OMEGA #3

$3.99

IDW

10,130

189

6.70

MAGIC THE GATHERING PATH OF VENGEANCE #3

$4.99

IDW

10,093

190

6.67

TRANSFORMERS MORE THAN MEETS EYE #13

$3.99

IDW

10,051

191

6.59

MASSIVE #9

$3.50

DAR

9,936

192

6.55

TRANSFORMERS ROBOTS IN DISGUISE #14

$3.99

IDW

9,874

193

6.49

TRANSFORMERS REGENERATION ONE #88

$3.99

IDW

9,782

194

6.49

STAR TREK NEXT GENERATION HIVE #4

$3.99

IDW

9,777

195

6.25

LEGEND OF LUTHER STRODE #3 (MR)

$3.50

IMA

9,416

196

5.96

MY LITTLE PONY #1 & #2 HOT TOPIC EXCLUSIVE PACK

$3.99

IDW

8,988

197

5.93

DEJAH THORIS & GREEN MEN OF MARS #1 (MR)

$3.99

DE

8,932

198

5.82

WARLORD OF MARS #23 (MR)

$3.99

DE

8,768

199

5.74

BRAVEST WARRIORS #5

$3.99

BOO

8,652

200

5.70

CLONE #4

$2.99

IMA

8,589

201

5.63

SONIC THE HEDGEHOG #245

$2.99

ARC

8,490

202

5.55

MORNING GLORIES #24 (MR)

$3.99

IMA

8,364

203

5.54

UNWRITTEN #46 (MR)

$2.99

DC

8,352

204

5.38

GREAT PACIFIC #4 (MR)

$2.99

IMA

8,102

205

5.36

BALTIMORE WIDOW & THE TANK ONE SHOT

$3.50

DAR

8,071

206

5.29

VAMPIRELLA STRIKES #2

$3.99

DE

7,972

207

5.19

TRANSFORMERS PRIME RAGE O/T DINOBOTS #3

$3.99

IDW

7,821

208

5.12

FIVE WEAPONS #1

$3.50

IMA

7,721

209

5.05

CROSSED ANNUAL 2013 #1 (MR)

$5.99

AVA

7,613

210

5.05

TRANSFORMERS PRIME RAGE O/T DINOBOTS #4

$3.99

IDW

7,609

211

5.01

CROSSED BADLANDS #23 (MR)

$3.99

AVA

7,543

212

4.97

GI JOE A REAL AMERICAN HERO #187

$3.99

IDW

7,489

213

4.84

JOE KUBERT PRESENTS #5

$4.99

DC

7,288

214

4.83

CROSSED BADLANDS #24 (MR)

$3.99

AVA

7,279

215

4.83

UNCANNY SKULLKICKERS #1

$3.50

IMA

7,271

216

4.75

PATHFINDER #5

$3.99

DE

7,159

217

4.74

YOUNG JUSTICE #25

$2.99

DC

7,136

218

4.71

GFT JUNGLE BOOK LAST O/T SPECIES #1 (MR)

$3.99

ZEN

7,090

219

4.68

WARLORD OF MARS DEJAH THORIS #22 (MR)

$3.99

DE

7,059

220

4.68

MOUSE GUARD BLACK AXE #6

$3.50

ARA

7,052

221

4.64

GODZILLA ONGOING #10

$3.99

IDW

6,992

222

4.61

VAMPIRELLA #26

$3.99

DE

6,946

223

4.61

ROAD TO OZ #5

$3.99

MAR

6,944

224

4.60

HUMAN BOMB #3

$2.99

DC

6,931

225

4.59

SPONGEBOB COMICS #17

$2.99

UNI

6,923

226

4.58

ROBYN HOOD #5 (MR)

$4.99

ZEN

6,901

227

4.55

MARVELS IRON MAN 3 PRELUDE #2

$2.99

MAR

6,858

228

4.48

BLACK BEETLE #2 NO WAY OUT

$3.99

DAR

6,747

229

4.46

SIMPSONS COMICS #199

$2.99

BON

6,720

230

4.45

WONDERLAND #8 (MR)

$2.99

ZEN

6,707

231

4.43

SONIC UNIVERSE #49

$2.99

ARC

6,682

232

4.42

SNAKE EYES & STORM SHADOW #21

$3.99

IDW

6,659

233

4.41

SAGA #8 (MR)

$2.99

IMA

6,641

234

4.37

EVIL ERNIE #4

$3.99

DE

6,578

235

4.31

DEATHMATCH #3 MAIN COVERS

$3.99

BOO

6,490

236

4.30

GRIMM FAIRY TALES #82 (MR)

$2.99

ZEN

6,483

237

4.24

PROFESSOR FRINK FANTASTIC SCIENCE FICTIONS #1

$3.99

BON

6,395

238

4.16

RED SONJA UNCHAINED #1

$3.99

DE

6,275

239

4.10

DIA DE LOS MUERTOS #1 (MR)

$4.99

IMA

6,179

240

4.10

TODD THE UGLIEST KID ON EARTH #2

$2.99

IMA

6,177

241

4.08

GFT MADNESS OF WONDERLAND #1 (MR)

$3.99

ZEN

6,150

242

4.05

MULTIPLE WARHEADS ALPHABET TO INFINITY #4

$2.99

IMA

6,107

243

4.03

SAUCER COUNTRY #12 (MR)

$2.99

DC

6,067

244

4.02

TRUE BLOOD ONGOING #9

$3.99

IDW

6,062

245

4.01

GFT VALENTINES DAY SPECIAL 2013 (MR)

$5.99

ZEN

6,036

246

3.94

MARS ATTACKS #7

$3.99

IDW

5,943

247

3.87

ALL NEW X-MEN #5

$3.99

MAR

5,839

248

3.84

KEVIN SMITH BIONIC MAN #16

$3.99

DE

5,793

249

3.82

PEANUTS VOL 2 #6

$3.99

BOO

5,752

250

3.81

CROW SKINNING THE WOLVES #3

$3.99

IDW

5,737

251

3.76

HACK SLASH #24 (MR)

$3.50

IMA

5,665

252

3.75

DARK HORSE PRESENTS #21 (MR)

$7.99

DAR

5,647

253

3.70

BORDERLANDS ORIGINS #4

$3.99

IDW

5,581

254

3.69

SUPERIOR SPIDER-MAN #2

$3.99

MAR

5,558

255

3.68

WITCH DOCTOR MALPRACTICE #4

$2.99

IMA

5,552

256

3.68

RED SONJA #73

$3.99

DE

5,546

257

3.68

ARTIFACTS #25

$3.99

IMA

5,545

258

3.67

HELLRAISER DARK WATCH #1 (MR)

$3.99

BOO

5,528

259

3.60

PROPHET #34

$3.99

IMA

5,429

260

3.58

BIONIC MAN VS BIONIC WOMAN #2

$3.99

DE

5,390

261

3.57

MEGA MAN #22

$2.99

ARC

5,373

262

3.55

CREEPY COMICS #11

$4.99

DAR

5,342

263

3.54

GARTH ENNIS JENNIFER BLOOD #22 (MR)

$3.99

DE

5,331

264

3.54

JERICHO SEASON 4 #2

$3.99

IDW

5,331

265

3.54

FASHION BEAST #6 (MR)

$3.99

AVA

5,328

266

3.52

COMEBACK #4 (MR)

$3.50

IMA

5,311

267

3.50

MIND MGMT #8

$3.99

DAR

5,268

268

3.47

BART SIMPSON COMICS #80

$2.99

BON

5,235

269

3.46

GREEN LANTERN THE ANIMATED SERIES #11

$2.99