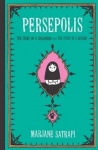 A memo from Christopher Dignam, the Principal at Chicago's Lane Tech College Prep High School indicates that he has received instructions from a member of the Chicago Public School's Network Instructional Support Leaders to collect all copies of Marjane Satrapi's award-winning graphic novel Persepolis "from all classrooms and the library" at his school and to make sure that the book "is not being used in any classroom."
News of the potential censorship first spread via a posting (under the title "
Wow, Denial Is Not Just a River in Egypt
" on the CPS parent/teacher news blog), and, at this early stage, there does appear to be some confusion over the apparent book banning with some reports indicating that copies of
Persepolis
were sent to the Chicago Public Schools by mistake, though other reports indicate that the books were actually purchased some years ago by an English teacher, who received a grant to purchase the books for a course she was teaching. Students, parents, and teachers from Lane Tech have scheduled a protest over the apparent banning that will be held at 3:30 pm on Friday afternoon. Stay tuned for further developments.