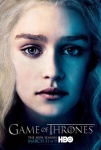 HBO has released a new 60-second trailer for Season Three of
Game of Thrones
, which kicks off on March 31st. The new trailer, which is titled "The Beast," contains lots of great new footage as well as some shots that appeared in the first Season Three trailer (see "
'Game of Thrones' S3 Trailer
").
HBO's superbly mounted adaptation of George R.R. Martin's series of epic fantasy novels has been a huge hit as is evidenced by the fact that the show is downloaded illegally more than any other TV production (see "
'Game of Thrones' Stolen the Most
").