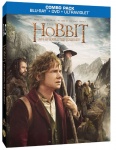 Big theatrical releases are the focus this week led by the first installment of Peter Jackson's Hobbit Trilogy, Kathryn Bigelow's Zero Dark Thirty, and Tom Hooper's Les Miserables. But there are items of interest in other categories with a brace of strong anime titles and a disparate couple of very amusing Britcoms.
Theatrical Movies
It's a major week for this category led by Peter Jackson's The Hobbit: An Unexpected Journey (Warner Bros., "PG-13," $28.98, BD/Combo $35.99, 3-DBD $44.95). The first in a trilogy of films that will adapt J.R.R. Tolkien's fantasy masterpiece does suffer a bit from the filmmakers' constant attempts to inflate the saga to the epic proportions of The Lord of the Rings, but overall this appears to be the start of another major achievement in fantasy filmmaking. Jackson has taken a lot of heat for his use of a high frame rate, which gives his film a hyper-realistic gloss, but history could very well be on Jackson's side on this question. One thing is clear this movie is a visual feast that demands viewing on Blu-ray. The film's high-def transfer, which Jackson supervised, is nothing short an amazing state-of-the-art exercise in getting as close to the filmmaker's intentions as possible both visually and aurally.
Also due on Tuesday is Kathryn Bigelow's Zero Dark Thirty (Sony, "R," $30.99, BD $40.99), a gripping account of the raid on Osama Bin Laden's Pakistani hideout that was nominated for numerous Oscars. Make up your own mind about how the "efficacy" of torture is portrayed in the film and note that the Jessica Chastain character is a composite rather than a real historical personage, but don't fail to enjoy this film because of its occasional ahistorical elements.
Those who enjoy movie musicals will likely enjoy Tom Hooper's Les Miserables (Universal, "PG-13," $29.98, BD $34.98), an intense adaptation of the stage musical that features strong performances from Anne Hathaway and Hugh Jackman as well as characteristically idiosyncratic efforts from Sacha Baron Cohen and Helena Bonham Carter. Warning: this is definitely not the musical for those who do not enjoy the genre—I guarantee that you will be crying "Uncle" long before the film's two-hour and 38-minute running time has elapsed.
Judd Apatow's This Is 40 (Universal, "R," $29.98, BD/Combo $34.98) wasn't nearly as successful as its predecessor Knocked Up, but in the future this low-key exercise in domestic comedy will likely be seen as one of the purer expressions of Apatow's comic vision thanks to its signature mixture of truly funny moments interlarded with large oleaginous veins of bad taste as well as to it stellar supporting cast that includes Melissa McCarty, Albert Brooks, Chris O'Dowd, Lena Dunham (Girls), Graham Parker (the rocker) and Megan Fox.
For those who enjoy serious art house fare there is Rust and Bone (Sony, "R," $30.99, BD $35.99), gritty French drama from director Jacques Audiard (A Prophet) about a rich woman, who is crippled in an accident and loses her will to live only to reclaim it through a relationship with a former boxer who refuses like director Audiard to view the woman's predicament with pity. Marion Cottillard and Matthias Schoenaerts star in this often steamy drama that earned a stellar 81% positive rating on Rotten Tomatoes.
TV on DVD
This is definitely a fallow week for domestic releases. The only new series is the ultimate guilty pleasure, Jersey Shore Season Six: The Uncensored Final Season (MTV, $29.99), a show that has somehow managed to go beyond becoming a parody of itself.
The only other North American releases are all vintage TV series including the trend-setting, crime-fighting, forensics-heavy, coroner series Quincy, M.E.: Season 5 (Universal, 1050 min., $39.97), plus the popular sitcoms That 70s Show Season 7 (Mill Creek, 548 min., $14.98), That 70s Show Season 8 (Mill Creek, 477 min., $14.98), Roseanne Season 7 (Mill Creek, 597 min., $14.98), and Roseanne Season 8 (Mill Creek, 596 min., $14.98).
The two other vintage TV releases this week are being released on the less permanent DVD-R format so be forewarned. Alice: The Complete 3rd Season (Warner Bros., 580 min., $29.95) will have you asking people to "kiss your grits," while Daktari: The Complete Second Season (Warner Bros., $49.95) showcases the kid-friendly late-1960s drama series set in a fictional East African wildlife refuge.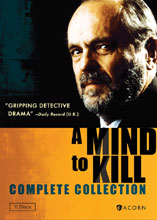 Fortunately there are some interesting options from the U.K. this week led by
A Mind to Kill: The Complete Collection
(Acorn Media, 2040 min., $79.99) features a bravura performance by Phillip Madoc as the brooding Welsh detective Noel Bain. This series is surprisingly gritty and atmospheric. The bleak Welsh landscapes it presents demonstrate
A Mind to Kill's
affinity with Scandinavian Noir, and those who enjoy series like
Wallander
will definitely like
A Mind to Kill
, which also features a beleaguered middle-age policeman with decent values who is tested in both his professional and private life. In
A Mind to Kill
, it's Bain's rebellious teenage daughter who provides most of the drama in the protagonist's private life, and their often fractious relationship is particularly well drawn.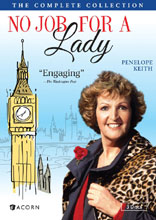 Typically comedy doesn't travel as well as drama, so perhaps one has to be sort of an anglophile to enjoy
No Job for a Lady: The Complete Collection
(Acorn Media, 432 min., 59.99), which includes all three seasons of the witty comedy about the trials and tribulations of a female Labour MP in this fast-paced, repartee-filled series that aired originally in the U.K. in 1990-92 and was later shown here on public TV. The Parliamentary system may be somewhat foreign to Americans, but the smarmy political posturing and sexism are all too familiar.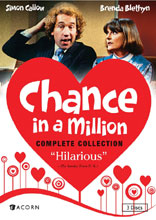 There's a more universal appeal to
Chance in a Million: The Complete Series
(Acorn Media, 451 min., $59.99), a marvelous character-driven series that stars Simon Callow as Tom Chance and Brenda Blethyn as a librarian who has definitely set her cap for Tom. Tom lives up to his surname. He is continually the victim of freak events and weird circumstances, but remains comically oblivious to nearly everything. His manner of speech is best characterized as an idiosyncratic barrage of clipped, pared down sentences delivered as if he had been taught to speak by Western Union. Callow's Tom Chance is truly one of a kind—and who can dislike a character whose signature move is downing a pint in one gulp while still somehow managing to get off one of his typically cryptic pronouncements.
Anime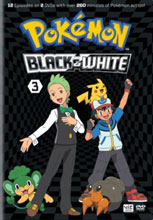 There aren't a lot of releases this week, but they are choice.
Toriko Part 3
(Funimation, 14+, 300 min., $39.98) includes 12 episodes of popular anime series produced by Toei and based on the
Shonen Jump
manga series by Mitsutoshi Shimabukuro. This is basically a series that will appeal to those who enjoy the non-stop martial arts action of DBZ, Yu Yu Hakusho, or
Naruto
with the added benefit that this series of adventures of a Gourmet Hunter ("You gotta eat what you defeat") who scours the globe for rare, diverse foods sets a good example for kids who are picky eaters. Funimation's excellent English dub is appropriate for the series' intended general audience.
The Toriko series, which debuted in Japan in 2011, has reached around 100 episodes, a great indication of its popularity, but one of the things that really aided the launch of the Toriko series was a crossover with One Piece, which remains the most popular anime/manga property overall in Japan. One Piece Season 4 Part 4 Uncut (Funimation, "14+," 320 min., $39.98), which includes 13 more episodes from the long-running pirate saga.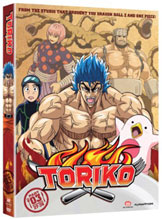 Parents who don't want their kids watching the constant fighting that makes shows like
DBZ
and
Toriko
so mesmerizing for young boys can find some anime comfort with
Pokemon Black and White: Set 3
(Viz Media, "All Ages" 300 min., $19.97), the latest (on DVD in North America at least) iteration of the perennial
Pokemon
property, which remains firmly entrenched with a strong multi-media base that includes popular video games, a collectible card game, toys, and the long-running
Pokemon
anime series that anchors the property on the Cartoon Network.
Fans of vintage anime definitely have reason to be happy this week with the release of New Hurricane Polymar (Eastern Star, $19.97), a two-part OVA series from 1996 that was itself a remake of the classic 1970s Tatsunoko series Hurricane Polymar. New Hurricane Polymar was released here by Urban Vision in 1998, and Eastern Star's version includes an English dub track. Another OVA series of slightly later vintage (2000-2001), Shin Getter Robo vs. Neo Getter Robo (Eastern Star, 120 min., $24.95) contains a four-part series based on the works of Go Nagai and Ken Ishikawa, whose Getter Robo Go manga provided the characters, but not the plot for Shin Getter Robo vs. Neo Getter Robo, which is available here with a Japanese language track and English subtitles.

Tom Flinn

The opinions expressed in this column do not necessarily refllect those of the editorial staff of ICv2.com