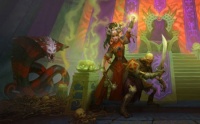 Warner Bros. has acquired the film rights for seminal roleplaying game
Dungeons and Dragons
, according to
Deadline
. The project arose out of a script based on
Chainmail
, a medieval (eventually fantasy) miniatures game designed by Gary Gygax and Jeff Perren and released by Guidon Games. Rights were later acquired by TSR, and ultimately acquired by Hasbro subsidiary Wizards of the Coast as part of its purchase of TSR assets.
Chainmail
was closely connected to
Dungeons & Dragons
, created a few years later by Gygax and Dave Arneson. WotC last used the brand in 2002, as its fantasy miniatures line (see "
WotC Cans 'Chainmail'
").
The
Chainmail
script was written by David Leslie Johnson, who wrote
Wrath of the Titans
, a couple of episodes of
The Walking Dead
, and
Red Riding Hood
. He's also been a frequent assistant to Frank Darabont, so has learned from one of the best. Teh script will be adapted to the
D&D
property.
One troubling association: one of the producers is Courtney Solomon, who directed the 2000
Dungeons & Dragons
feature, not a triumph.
D&D
, of course, is one of WotC's foundational properties, but its recent sales have not reflected its level of awareness and cultural influence. Over the years over $1 billion worth of
D&D
products have been sold, but currently the brand is in an interregnum period. WotC has recently been reprinting earlier editions (see "
WotC Does 'White Box'
") as it goes through an extended period of development on the
D&D Next
edition (see "
'D&D Next' for 'D&D Encounters'
").