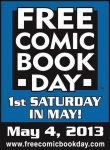 On Saturday May 4th, an estimated 1.2 million comic book fans made their way to 2000 comic book shops around the world where they collected more than 4.6 million comic books (see "
FCBD Tops 4.6 Million Comics
"). The event generated an estimated $2.2 million in free publicity for the industry as the event was covered by more than 240 TV news shows, over 460 news outlets, and more than 720 online sources. The event was also big on social media generating 66,000 tweets as the hashtags #FCBD and #FreeComicBook Day took the #1 and #2 spots on Twtter on May 4th between 9am and 4pm.
The Free Comic Book Day event continues to grow as the message gets out to more and more people. Numerous retailers like Daniel McAbee of The Tangled Web in Spartanburg, South Carolina reported to ICv2 that this year's event was the most successful FCBD ever, yielding strong sales as well lots of consumer goodwill.
More than 40 comic book publishers provided the 52 free comics that provided the major attraction for this year's event. The next Free Comic Book Day, which is set for May 3, 2014, promises to be even more exciting as this industry-wide event continues to pick up steam.