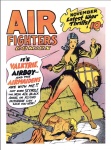 Archival and out-of-print publisher Canton Street Press has announced plans to release two hardcover collections of classic Golden Age comics featuring Valkyrie, Airboy, and Canteen Kate.
First up is
The Complete Golden Age Airboy & Valkyrie
. Inspired by Milton Caniff's
Terry & the Pirates
, which debuted in 1934 for the
New York Daily News
, Airboy and Valkyrie's adventures originally ran in Hillman Publication's
Air Fighter Comics
from 1941-1945.
Airboy was Davy Nelson, a young aviator who uses his piloting skills to fight the Axis during World War Two. Created by Charles Biro, Dick Wood, and Al Camy, Airboy provided an artistic platform for many Golden Age writers and artists, including Carmine Infantino; however, artist Fred Kida is perhaps the most recognizable illustrator attached to the property. Valkyrie, the Nazi aviatrix and vamp, played both Airboy's greatest foe and love interest.
The Complete Golden Age Airboy & Valkyrie
is digitally restored in full color, 136 pages, and will retail for $24.99. It will be released on September 18. It will collect
Air Fighter Comics
volume 1 #12 and volume 2 #2 and #7, as well as stories from
Airboy Comics
volume 2 #12, volume 3 #6 and #12, volume 4 #10, and volume 9 #2. A trade paperback collection,
Valkyrie: Golden Age
, was released in 2004 from Verotik, but it was an incomplete edition. Canton Street's edition also includes an introduction by Timothy Truman.
Often cited as a major influence on illustrator Alex Toth, Airboy was also the source of inspiration and imitation for many other Golden Age strips (see "
Review: 'Johnny Hazard the Newspaper Dailies Volume: 1944-1946'
").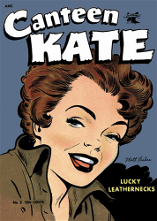 Canton Street's second comic reprint collection is
Matt Baker's Canteen Kate
. First appearing in 1951's
Fightin' Marines
#2 from St. John Publishing, Canteen Kate soon received her own standalone series,
Canteen Kate
, in 1952. Appearing sporadically until 1955, Kate soon became a hallmark of artist Matt Baker's short but recognizable canon of characters. Collecting
Anchors Andrews
#1,
Fightin' Marines
#2-9, and 15, and
Canteen Kate
#1-3,
Matt Baker's Canteen Kate
is a 160-page color hardcover, and retails for $28.99. This edition includes an introduction by Bob Burden. It will be available on October 16.
Another collection of Baker's work was recently released by Hermes (see "
Hermes Collects 'Brenda Starr' Comics
"), and the artist was featured in a biography (see "
TwoMorrows' Matt Baker Biography
").
--
Nathan Wilson