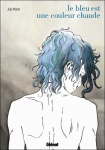 Blue is the Warmest Colour
, which won the Palme d'Or, the top prize at Cannes, is coming under fierce criticism for its lesbian sex scenes from Julie Maroh, the creator of the
bande dessinee
on which it's based, according to the
New York Times
. Maroh said in a translated blog post that the film was "a brutal and surgical display, exuberant and cold, of so-called lesbian sex, which turned into porn." She said the scenes were not believable for gay and queer people, who "find it ridiculous."
Maroh noted that "This was what was missing on the set: lesbians," and that the director and actresses are "all straight, unless proven otherwise."
She also decried the lack of any acknowledgement of the source material from director Abdellatif Kichiche when he accepted the award.
Maroh's not the first person to criticize a movie based on his or her work, of course, but this controversy brings more heat because of the high profile of the film, the award of the Palme d'Or in France just as gay marriage was legalized (a controversial decision that brought demonstrators into the streets), and the explicitness of the sex scenes.
The graphic novel will be published in English this October as
Blue Angel
by Arsenal Pulp Press.