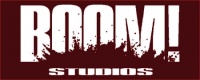 BOOM! Studios and Archaia Entertainment have merged, uniting two smaller, quality comic publishers. BOOM! will be the surviving entity; Archaia will be an imprint of BOOM!. The companies say the combined entity will have "the largest independent company-controlled comic book and graphic novel library," behind only Marvel and DC.
BOOM! CEO Ross Richie will run the combined companies; Archaia President and Chief Operating Officer Jack Cummins will continue in the same role.
DFJ Frontier, a venture fund that was an early investor in BOOM!, is putting in more money to fund expansion. "We have ambitious plans to fund the company's expansion in comics, graphic novels, and other media," BOOM! executive chairman Scott Lenet of the VC firm said.
The venture fund also funded Super Heat, the trading cards based on skateboarders see "
Super Heat Raises $1.6M
"), and another DFJ affiliate, DFJ Mercury, was a two-time investor in Graphic.ly (see "
Graphi.ly Attracts $3 Million Investment
").
BOOM! says it will bring Archaia catalogue items back into print, and promises "stronger trade terms" for retailers.
In a sign of the times, the announcement stressed the "creator-friendly" stance of the publishers, noting that BOOM!'s business model provides for shared IP ownership between the creators and the company, and that "Archaia operates with the same philosophy and objectives." BOOM! has recently welcomed some high profile Big Two defections into its fold, including Paul Jenkins (see "
DC Creator Relations Hit New Low
").
Although the combined IP is a strong library, we note that there are four publishers between BOOM! and DC on Diamond's comic store market share charts (Archaia usually doesn't chart): Dynamite Entertainment, Dark Horse Comics, IDW Publishing, and Image Comics. So the claim that the new BOOM!'s library of "company-controlled" IP is the third largest in the business might get some pushback. Regardless, the new company will have better scale, may give Dynamite some competition for the sixth spot in comic stores, and now has the bookstore-friendly Archaia releases as well as BOOM!'s licensed properties to give weight to the book channel part of the business.
Both BOOM! and Archaia have been working hard to get their properties licensed for media exploitation. BOOM! is further down that road, with
2 Guns
opening in August, but Archaia also has films in development.
Comic publishing is a very tough business, and to see the creation of what should be a stronger company, better able to weather the storms and take advantage of the opportunities, is a positive development for the industry.