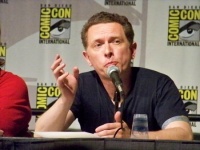 Comic-Con News:
Dynamite Entertainment announced today the signing of a deal with veteran comic book writer James Robinson (
Starman
) to create a new comic book series
Grand Passion
. This marks the first time that Robinson has worked with Dynamite. Robinson, who has won multiple Eisner awards, burst on to the scene with the evocative blitz saga
London's Dark
in 1989 and continued to gain accolades for his brilliant stint on
Starman
, his work on DC's
The Golden Age
, and the offbeat
Leave It to Chance
at Image. Robinson recently left DC Comics (see "
James Robinson Ankles DC Comics
").
Grand Passion
, which Robinson describes as a mixture of elements from a Harlequin romance and hardboiled crime fiction, "is the story of two characters Doc and Mabel, one a cop, the other a crook who are fated to fall in love at first sight." Look more details on James Robinson's
Grand Passion
to be released in the coming weeks.