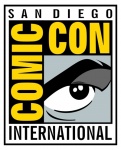 We caught up with Comic-Con International Director of Marketing and Public Relations David Glanzer as Comic-Con was wrapping up on Sunday to talk about this year's show, the potential expansion of the San Diego Convention Center, and WonderCon.
Give us your overview on how you thought the show went this year.
It's gone pretty well. There are always hiccups, but the ones we've had are ones that I think were manageable. This year there was a lot more stuff happening off-site. Xbox did a huge presentation at the Manchester Grand Hyatt with their new video games and their new platform. And Ubisoft moved one of our tall ships to behind the convention center to do some stuff with video games there too.
Yeah, we thought that was a car bomb the first night when they fired the cannon.
I actually got a text from somebody saying, 'Is that allowed? And how long is that going to happen?' And I texted back saying 'I don't know and I'm wondering myself.' We certainly were not made aware of that, so it was a little surprising.
I jumped out of my skin, and I was inside the hotel. I can't imagine what it was like outside.
Speaking of outside noise, it seemed like the proselytizers got a little more aggressive this year. They were using bullhorns and haranguing people, but then later in the weekend they seemed to quiet down. Was there any activity to try to reduce the noise out there?
You know the city is really very cognizant of free speech rights and issues so long as there's no conflict. They say they will leave our people alone and vice-versa. I don't know how alone you can leave somebody when you have a bullhorn. But for the most part, I think they trade out who comes, and some of them seem to be content to just stand and hold signs and others of the group seem to be bullhorn people.
I will say however, there was somebody from another convention who was using a bullhorn to sound like a preacher promoting their convention, so it was rather ironic over there.
We heard about more events and installations off-site, and further away. Do you feel like the use of the city is expanding?
The convention center did an economic impact study in 2010 or 2011, and it took into account the stuff that happens at and during Comic-Con as it pertains to the convention center specifically. It really didn't take into account a lot of the stuff that happens off-site.
There really is more of a 'Comic-Con campus,' with us being able to move to hotels and taking some of the public park space. But there is a lot of stuff we don't know about, or aren't really informed about, that happens even further away, and I think there was even more of that. What we are seeing, finally is a lot of those entities trying to contact us. Sometimes it's very late in the game, but a lot of them now are starting to say they want people to have a Comic-Con badge; they want to go ahead and make sure the people who come to this event are the people that are enjoying some of this stuff, and not just people coming downtown to people-watch or what-have-you. So if it's an added value for attendees, in most cases I think it's probably a good thing.
Did anything about the hotels change this year? We were told that there were hotels that weren't available through Comic-Con this year.
No. I think this year we had in excess of 60 hotels again. It varies; the properties change hands a lot of times, and sometimes they change hands when we're doing our contracts and they may be late coming to the game. I think everybody was on board. We're still trying to get greater room blocks at all of those hotels so we can negotiate the rate because as I understand it, the non-negotiated rate in a lot of the hotels was really pretty high.
You changed the exhibit floor around this year, and moved the video game stuff to the north end and most of the booths that were at the north end to the south end. Talk a little bit about that and the reasons for it.
Well we always try to keep a dynamic exhibit floor, and there's always a little bit of change. But one of the things we really look for is traffic flow. We've always had really big aisles, but where people are located and how they're located can contribute to either a more congested floor, or, if we can move people around, maybe a less congested floor.
We're still working on trying to see what works best. Last year we tried some experiments that seemed to help. This year, again, we're going to take a lot of notes about whether it helped or eased traffic flow. And then there were some companies who were not coming so we were able to either give some of that space to companies or organizations who wanted to expand, or make them smaller islands.
The truth of the matter is, it's really difficult when you have 'X' amount of floor space and more people who want to occupy it than you really have space for. But the primary thing is safety, so we really try to move people around to make it as convenient or as non-congested as we can. It's impossible on this floor, but everything we can do to that end we're still going to try.
So moving the video game companies to the North end was about evening things out a little bit?
Yeah. We're gonna see if that really ended up working. We hope it did. We'll have our full de-briefing afterwards. But not only moving the video game companies to the North end of the convention center, but also on the mezzanine level we were able to go ahead and move some of our games off-site.
With Xbox taking this huge space over at the Manchester Grand, it may be that eventually, if people start going over there and realizing that's a great anchor, we may be able to move some other stuff from the convention center to area hotels, like we have in the past with the film festival, the Eisner Awards, things of that nature. And then that will leave us more room for different kinds of other uses, be that comics programming or other different types of programming.
Has anything changed in the plans for an expansion to the Convention Center?
Not that we know of. We're not really in the loop on that, they don't consult us. I could be wrong, but the last I read, everyone is on board for the expansion. We're waiting for, I think it's the Coastal Commission, and my understanding is that they would give their approval or rejection later this year. So I think we're all in a holding pattern until that happens. And I think there is also a
lawsuit
that's pending, and I'm not sure if that's already been adjudicated or not.
And what land would they be using?
Well, as we understand it (and again, plans could have changed since I saw them last) it would be behind the convention center. So where Hall H is, there's a park out there, just south of Hall H, and then behind it is a parking lot, and my understanding is that it would be around that area.
And then what's going on with WonderCon for next year? Have you chosen a location?
We are still looking at Anaheim, because I think Anaheim may have dates for us. We're still hoping for San Francisco. To be honest with you the last couple of weeks, at least, have been pretty focused on San Diego. I think when we get back to our offices, we're going to start really pursuing it and finding out what it is we can do. Again, to get dates for a show as big as WonderCon six months out is really problematic, and not only for us, but for exhibitors and attendees, you want to be able to plan a year in advance.