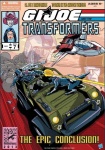 Harmony Gold has filed suit against Hasbro in federal court, alleging copyright infringement with regard to the
Robotech
vehicle
Veritech Fighter VF-1
. The suit alleges that Hasbro's sale of a toy in a box labeled
G.I. Joe and the Transformers – The Epic Conclusion
infringes Harmony Gold's rights to exploit the intellectual property. Harmony Gold obtained those rights in the 80s when it licensed the original three series that were re-cut to form
Robotech
, along with the merchandising rights to those series.
The suit asks for an injunction against further sale, any remaining inventory, that Hasbro recall any in the marketplace, any profits Hasbro made, plus additional damages.
Harmony Gold has licensed the Veritech Fighter to other companies, including Palladium Books, which will include Veritech fighter miniatures in its
Robotech RPG Tactics
game (see "
'Robotech RPG Tactics: Defense of Macross Island'
").