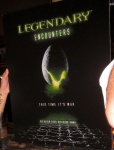 Upper Deck will release an
Alien
Legendary
Deck Building Game
in 2014, the company announced at Gen Con Saturday night.
"Remember the thing we were talking about with the green
Legendary
logo?" Jason Brenner, Upper Deck's Marvel brand manager teased, pausing for effect. "
Legendary Encounters
--an
Alien
Deck.
Aliens
the movie--
Legendary Encounters."
Brenner shared that next year is the 35th anniversary of
Alien
the movie, "So there's going to be a marketing machine, and a lot of hype going around it."
He also pointed out that while Upper Deck's
Alien
game will be compatible with the
Marvel Legendary: A Marvel Deck Building Game,
it is a stand-alone product, and not interchangeable. "It's going to be different, but it's going to feel really familiar to (current players). Wolverine is going to take down Xenomorphs."
This was one of two announcements made Saturday night at Gen Con by Upper Deck; the other was a Spider-Man set for
Marvel Legendary
(see "
UDE Announces 'Marvel Legendary: Spider-Man / Carnage'
").