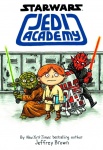 Star Wars: Jedi Academy HC
Publisher: Scholastic Inc.
Release Date: August 27, 2013
Price: $12.99
Creator: Jeffrey Brown
Format: 160 pgs., Full-Color, 8 1/2" x 5 1/2", Hardcover
ISBN: 978-0-5455-0517-8
Age Rating: 8 and up
ICv2 Rating: 3.5 Stars out of 5
After the success of his cartoon collection
Darth Vader and Son
, with its sequel
Vader's Little Princess
, Jeffrey Brown has turned his hand to children's humor in a hybrid form, like
Diary of a Wimpy Kid
or
Big Nate
. A mixture of comics, school schedules, journals and other things, including a comic strip by the main character, make up the main story, which ranges from serious things about learning to be a Jedi to various funny ways to use The Force.
Young Roan, a resident of Tatooine, had his heart set on being a pilot, but for reasons never explained, he wasn't accepted to pilot school. Then, he received a letter that he had been selected for Jedi training, even though most kids were selected for that at a very young age. These discrepancies may bother some kids, but Brown glosses over them in order to get to the story, which is about going off to this strange and unusual school. Topics range from Jedi science fairs to really unusual school instructors, with a host of semi-standard school jokes in between.
The artwork isn't Brown's strong point, and won't compare favorably to other
Star Wars
comics, but as illustrations for a book they're at least adequate. The writing, however, is very good and will connect with kids.
--
Nick Smith: Librarian Technician, Community Services, for the Pasadena Public Library in California.