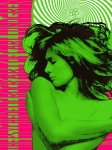 The Hermes Press has announced the forthcoming publication of
The Psychedelic Rock Art of Carl Lundgren
, a hardcover, 192-page collection of classic posters created by the Detroit-based artist who created posters for The Who, The Jefferson Airplane, Pink Floyd and Mitch Ryder among others. Those who enjoy the psychedelic art of the 1960s and 1970s will want to check out this deluxe oversize (9" x 12") hardcover collection.
In addition to the regular 192-page edition, Hermes Press is also publishing a 208-page
Limited Edition Psychedelic Art of Carl Lundgren
, which will include additional artwork and special features.