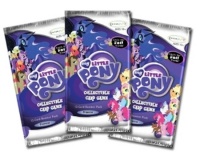 New York Comic Con News:
Enterplay President Dean Irwin told ICv2 that the company was targeting mid-November for pre-release events for
My Little Pony--The Collectible Card Game
, which they announced back in August (see "
'My Little Pony CCG'
"). "We're about ready to go into production on that," he said. "Our goal is to have prerelease events that happen on or around November 15th, and we're fighting very hard to make that date happen."
My Little Pony--The Collectible Card Game
will be packaged in traditional starter Decks and booster packs, and will also be released in Theme Decks. The
Premiere Edition 2-Player Starter Set
(MSRP$18.99), which includes two 58-card decks and rules, features foil versions of both the "Pinkie Pie Mane Character" and "Fluttershy" cards, allowing players to build their decks around either of those Mane Ponies.
MLP CCG
Booster Packs
will include 12 cards with an MSRP of $3.49 each, packaged six packs per display.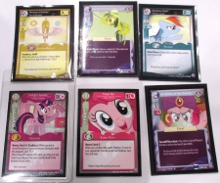 There are two
Premiere Theme Decks,
one with Rainbow Dash and (a non-foil card) Rarity, and one with Twilight Sparkle and (a non-foil card) Apple Jack. Each deck contains 59 cards and rules and carry an MSRP of $10.99. There are eight decks per display.
Gameplay for this strategic card game revolves around a race to solve problems (both the player's and their opponent's) from the problem deck to earn points. The first person to 15 points wins. It is suggested for players ages 10 and up.