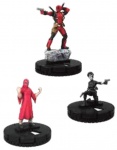 WizKids will release
Marvel HeroClix: Deadpool
, beginning on April 23rd, 2014 with the first of three SKUs, the 24 Ct. Gravity Feed. The Booster Packs and Fast Force Packs will release on May 7th, along with the Organized Play Kit.
The single-figure $2.99 foil packs will consist of friends and foes of Deadpool (one never knows who the "Merc with a Mouth" will get into a fight with, after all) including Domino, Daredevil and the Secret Empire.
The Booster Packs ($12.99) will have more than 80 all-new figures, including the "Marvel HeroClix Fan Vote Winner"--teleporting mutant Blink. The rarity breakdown is 19 Common figures (plus one Prime figure), 19 Uncommon figures (plus one Prime), 19 Rare figures (plus one Prime), 15 Super Rare figures (plus one Prime) and 4 Chase figures. Sub-themes include Deadpool's allies and enemies (isn't that everybody?), the Deadpool Corps, and the all-new Thunderbolts.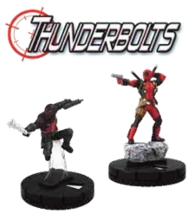 The
Deadpool "Thunderbolts" Fast Forces Pack
will include 6 figures (The Red Hulk, Deadpool, the Punisher, Elektra, Venom and Mercy), two exclusive maps and a code to unlock exclusive online content.
Each Organized Play Kit will include 12 limited edition figures (three each of four figures), 30 3D objects (10 copies of three different objects), 10 two-sided maps and an instruction sheet. Stores are limited in the number of OP Kits they may order from their distributor based on cumulative cases of product ordered, with no more than 3 OP Kits per retail store.