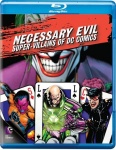 This summer's most successful bit of counter-programming,
The Conjuring
, is due on disc this week, but comedy fans should eschew the big stars of
The Internship
in favor of a raunchy Britcom and a couple of superior coming-of-age-comedies, while the 1990s TV series based on White Wolf's
Vampire: The Masquerade
is back in a cool package, and there is a solid selection of anime releases including the feature film capstone to the
Blood-C
vampire saga.
Theatrical Releases
This week's biggest release is
The Conjuring
(New Line, "R," $28.98, BD $35.98), a haunted house saga directed by James Wan that is based on a "true Story" about a rural family that became the victims of evil forces apparently residing in their own isolated farmstead. Vera Farmiga and Patrick Wilson give excellent performances in this horror film that was one of the major counterprogramming success of the summer as it earned a potent $137.2 million at the box office. Those who enjoy
Amityville
-like haunted house demonic possession movies will likely enjoy this one too.
But for comic geeks the release of the week is a documentary,
Necessary Evil: Super-Villains of DC Comics
(Warner Bros., "Not Rated," $14.98, BD $19.98, BD/Combo $24.98). Horror legend Christopher Lee narrates this extended look at the tortured psyches of DC's impressive roster of bad guys that includes such luminaries of evil as The Joker, Lex Luthor, Doomsday, Cat Woman, and Bane to name just a few. Key filmmakers including Guillermo Del Toro, Zack Snyder, and Richard Donner provide their insights, while DC's Geoff Johns and Jim Lee bring their perspectives from comic industry.
Comedy fans should look beyond
The Internship
(Fox, "PG-13," $28.98, BD $39.98), a buddy comedy set in the world of Google with a couple of superannuated interns played by Owen Wilson and Vince Vaughn, who aren't able to reconstruct their
Wedding Crashers
magic her.
The Internship
could only manage 35% positive on Rotten Tomatoes. It does have some laughs, and fans of the two actors will probably want to see it, but many will find it way too predictable.
For those who like snappy Britcoms like
4 Weddings and a Funeral
and
Notting Hill
, the cynical
I Give It a Year
(Magnolia, "R," $26.98) is a much better choice than
The Internship
. There is no emotional payoff here, but there is plenty of comedy (and more than a few raunchy bits). Directed by Dan Mazer,
I Give It a Year
features a large, excellent cast including Steven Merchant, who steals most of the scenes he is in.
Those who like American indy comedies have several good choices this week including
Free Samples
(Starz, "R," $19.98), a prickly little comedy about a Stanford Law School dropout who finds herself working on a food truck in Los Angeles, and the somewhat slicker
The Way, Way Back
(Fox, "PG-13" $28.98, BD $39.99), a smart
Little Miss Sunshine
-like comedy with an A-list cast (Toni Collette, Steve Carrell, Maya Rudolph, Alison Janney, Sam Rockwell, and Amanda Peet) and plenty of humor in poignant coming-of-age saga.
As Cool As I Am
(MPI, "R," $24.98, BD $29.98), a coming-of-age saga about a smart teenage girl growing up in a small town makes a nice bookend with
The Way, Way Back
, which is about a teen boy. Sarah Bolger is excellent as the teenage heroine, who is forced to be mature because her mother (well played by Claire Danes) is hopelessly immature and her father (played by James Marsden) is often absent.
Another movie of real interest is Richard Linklater's
Before Midnight
(Sony, "R," $30.99, BD $35.99), the third film in a trilogy that examines two modern cross-cultural lovers, an American played by Ethan Hawke and a French woman played by Julie Delpy). They first met in
Before Sunrise
in 1995 and then again nine years later in
Before Sunset
in 2004. Hawke and Delpy share screenwriting credit with Linklater as the trio explores the difficulties of romance in the modern age. Not for everyone, but for those who enjoyed the first two films in the series
Before Midnight
is a must.
Ryan Gosling and Nicholas Winding Refn fans will no doubt have to see
Only God Forgives
(Starz, "R," $28.98, BD $34.99), but everyone else can take a pass. Set in Bangkok, this turkey dabbles in Eastern mysticism as well as heavy-handed symbolism and then takes writer/director Refn's stylized staging filled with pregnant pauses and punctuated by over-the-top violence to new levels of audience infuriation.
TV on DVD
Kindred: The Embraced—The Complete Series
(Paramount, 381 min., $39.98), which includes all eight episodes of a 1996 Fox TV series that was loosely-based on the White Wolf RPG
Vampire, the Masquerade
. This series may well have fared much better had it been introduced ten years later, when the climate for supernatural horror on TV was considerably better. Paramount seems to have recognized that in this new DVD version that contains lots of cool extras including episode commentaries, an extended pilot episode, deluxe booklet, as well as informative featurettes.
Also of interest to geek TV fans is
Nikita: The Complete Third Season
(Warner Bros., $59.97 BD $69.97), which contains the complete third season of the CW series based on the 1990 French film
Nikita
and the 1997-2001 TV series
La Femme Nikita
. Maggie Q plays the eponymous heroine of this series, a woman who escaped from a secret government organization and is determined to bring it down.
Science fiction fans might also be interested in
Primeval: New World
(eOne, 585 min., $29.98, BD $39.98), the short-lived Canadian/British sci-fi series that spun off from the U.K. series
Primeval
.
Transformers: Rescue Bots—Vol.3, Griffin Rock Rescue
(Shout Factory, 110 min., $14.93), a solid single-disc collection from the contemporary cartoon series that, like the Marvel Super Hero Squad, targets young children with useful messages about health and safety. Those who have young children can certainly do much worse that choose this colorful cartoon that is specifically engineered for kids 7 and under.
Vintage TV releases include
Silk Stalkings: Seasons 6,7, 8
(Mill Creek, 2964 min., $44.98), which collects 66 episodes of the "Crimetime After Primetime" series from CBS's late night mystery experiment that lasted from 1991-1993.
Silk Stalkings
was created by Stephen G. Cannell, and this saga about the solving of sex crimes among the ultra-rich of Palm Beach, FL managed to keep going on USA network until 1999.
Other vintage releases include the
Pony Express saga, Young Riders: Season 2
(TGG Direct, $24.98, which collects most of the second season (four episodes are not included due to rights issues) of the ABC western series that aired from 1989-1992, plus inexpensive "Best Of" sampler collections for the vintage Brian Keith sitcom,
Family Affair: Best of Collection
(MPI, 175 min., $14.98), as well as for The
Doris Day Show: Best of Collection
(MPI, 175 min., $14.98), and
The Mothers-in Law: Best of Collection
(MPI, 175 min., $14.98), which stars Eve Arden and Kaye Ballard.
Anime
Blood-C: The Last Dark
(Funimation, "17+," 105 min., BD/DVD $35.95), a anime movie that was released in Japan in 2012 and which puts a capstone on the long-running vampire series from CLAMP and Production I.G. This movie won the jury prize at the Fantasy Film Festival in Montreal, where it was cited for its "horrifying Lovecraftian bestiary, as well as attention to textures and lighting."
Because of its great visuals it is good news that Funimation is making the Blood-C movie available in hi-def, but older anime can also benefit from the high-def treatment---case in point,
Sakura Wars: The Movie,
a 2001 feature created from the mecha-rich anime TV series created by Production I.G.. This compilation film was originally released here by Geneon in 2001, but it looks much better now in its first Blu-ray high-def release.
Princess Knight, Part 2
(Right Stuf, "7+," 650 min., $39.99), which includes episodes 27-52 of Osamu Tezuka's groundbreaking
shojo
anime series, which is presented here in its original English broadcast version from 1967.
Those who enjoy gender-bending anime should check out
Kokoro Connect
(Sentai Filmworks, "8+," 325 min., $59.98, BD $69.98), which includes all 13 episodes of a 2012 series from Silver Link about five students who are members of the Cultural Research Club and who begin experiencing a strange phenomenon in which they randomly swap bodies (and gender identities) among themselves.
This week's re-priced re-releases include the
Di Gi Charat Collection
(Sentai Filmworks, "13+," $19.98) which features the big-eyed princesses from the planet Di-Gi Charat in a saga so sickeningly sweet that it should come with a diabetes warning label.
Tom Flinn
The opinions expressed in this column do not necessarily represent those of the editorial staff of ICv2.com.