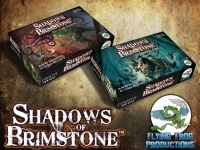 Flying Frog Productions has turned to Kickstarter to fund its new cooperative dungeon-crawl board game,
Shadows of Brimstone,
which is set in the Old West, blended with elements of demonic cross-dimensional horror.
The campaign has currently netted $757,604 from 2,785 backers ($272.03 average) as of this writing, and it still has seven days to go before completion. This is Flying Frog's first Kickstarter and it is currently trending toward a possible spot on the Top 10 Tabletop Game Kickstarters if it matches trending expectations (see "
Top 10 Tabletop Game Kickstarters
").
The board game, which will have two starter sets, has players take the role of classic Old West hero archetypes (law man, gunslinger, saloon girl, rancher, bandito) and form an adventuring posse to venture into the dark mines overrun with ancient demons and foul creatures from another world. Players use tactics, dice and a card-driven exploration system to explore the mines, fight enemies, collect loot and even find portals to other worlds. The campaign system allows players to rest at local frontier towns between adventures, spend loot and build their character with upgrades as they gain experience.
There are two starter sets: the
Shadows of Brimstone: City of the Ancients Core Set,
and the
Shadows of Brimstone: Swamps of Death Core Set.
Flying Frog explains in their video that both contain unique character classes and settings as well as unique other world for the characters to investigate. Both boxes contain map tiles, several (unpainted) 35 mm character miniatures, dice, over 220 game cards, a rule book, adventure book, record sheets, reference cards and a CD soundtrack. MSRP has not been announced, but both sets say they carry an "$85.00 value." Campaign estimated fulfillment is August 2014. No information was provided on trade release, but it seems likely it will be post-Gen Con 2014.
There is a retailer backer package available for $500.00.