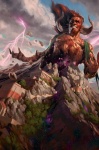 Wizards of the Coast will launch
Magic: The Gathering--Born of the Gods,
the second set in the
Theros
block (see "
'Magic: The Gathering--Theros'
"), on February 7th. The 165-card set will be available in
Booster Packs, Intro Packs,
and Fat Packs.
Challenge Decks
will be released March 7th.
WotC's Buy a Box program will provide 20 Alternate-art, foil promo cards (30 for WPN Advanced Stores) for free-with-purchase premiums tied to purchases of booster boxes.
The normal WotC program of events to support the new release is planned. Pre-release events will occur on February 1 -2. Launch Weekend will be February 7 -9. A Pro Tour event is planned for February 21-23, and Game Day will be on March 1-2. The three in-store events will be Quests 4 through 6 in the block-long Hero's Path event (see "
WotC's New Block-long 'Magic' OP Event
").
The third set in the
Theros
block,
Journey Into Nyx
, will release on May 2, 2014.