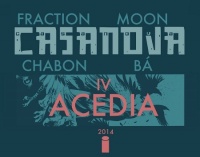 Image Comics Publisher Eric Stephenson made a number of major project announcements at Image Expo Thursday, including new work by Fraction, Morrison, Willingham, Snyder, and more.
Matt Fraction, Fabio Moon ,and Gabriel Ba will team up with author Michael Chabon to bring back the adventures of Casanova Quinn in 2014 with
Casanova Vol. 4: Acedia
.
"There has literally never been a better jumping-on point for new readers," said Fraction. "Our main character has no idea what's happened in the other
Casanova
books either... If that weren't enough, Pulitzer Prize-winning author Michael Chabon joins series co-creator Gabriel Ba to create a dazzling array of backup stories that explore the worlds--and the people--Casanova left behind."
Batman Incorporated
together, have teased a new horror series titled
Nameless
. In an exclusive with
USA Today
, Morrison shared that the comic will be a six-issue mini-series, and has a post-modern protagonist who's a screw-up, but super smart--like Benedict Cumberbatch's Sherlock.
Bill Willingham and Barry Kitson will partner on a new ongoing fantasy-action series titled
Restoration.
The title will be set in our world, where it turns out magic and gods are not just legend, but real--and a group known as The Brotherhood of the Cauldron captured them, but now an accident set them loose on the world again.
Detective Comics
, will re-team for a new, ongoing horror series called
Wytches.
The horror series goes back to the roots of legend and folklore, to the dark and horrifying aspects of the genre. In an
AP
interview, Snyder shared that the book is due in September, and said "This is straight-up black, twisted horror."
The Fade Out
, which will debut this summer, following the conclusion of
Fatale
, which will end with issue #24.
Fatale
is a noir story. "It's a brutal crime story set in late '40s Hollywood, and all spinning around the mysterious death of an up-and-coming starlet," said Brubaker. "For people who've been waiting for us to return to
Criminal
, this will be exactly what they're looking for, but on a much more epic scale--going from studio backlots to the debauchery of the rich and famous, and even stretching back to the horrors of World War Two."
Bitch Planet
. The plot follows five prisoners on an all-female penal planet, ready to make their escape by way of a gladiatorial exhibition against a team of visiting male prisoners.
James Robinson and Greg Hinkle will bring back the public domain 1940s series
Airboy
, as a story of two comic creators determined to breathe new life into an old series.
In May, Kyle Higgins, Alec Siegel, and Rod Reis will debut
C.O.W.L--
the story of a superhero labor union in 1960s Chicago, struggling to maintain their public image and regain the confidence of the people.
Brandon Graham (
Prophet, Elephantmen
) will team up with four different creators for a series of sci-fi/fantasy mini-series set in a world ruled by eight houses.
8House: Kleim
will be written by Graham and drawn by Xurxo Penalta,
8House: Arclight
will be written by Graham with art by Marian Churchland, and
8House: Mirror
will be written by Emma Ríos and drawn by Hwei Lim.
Rick Remender and Greg Tocchini will partner on the new ongoing sci-fi series
Low,
set in the bowels of Earth after the planet has been irradiated by the sun.
In May, Joshua Williamson and artist Mike Henderson will release a new ongoing, crime/thriller series called
Nailbiter.
The serial killer mystery sends FBI criminal profiler Charles Kohl on a mission to find out why, since 1969, Buckaroo, Oregon has been the birthplace for sixteen serial killers.
Nick Spencer (
Morning Glories, Bedlam
) will team up with three different artists and launch three new thriller series.
Paradigms,
with art by Butch Guice, is a contemporary fantasy epic with a spy thriller aesthetic.
Cerulean
features art by Frazer Irving, and follows the last survivors of Earth's destruction as they struggle to rebuild civilization on a distant planet.
Great Beyond
, with artist Morgan, is set in a "post-life community" where your morals in life don't matter, only the size of your bank account.
Joe Keatinge teams up with artist Leila del Duca for her Image Comics debut in
Shutter,
an ongoing series combining urban fantasy and
Indiana Jones
style globe-trotting adventure.
Keatinge will also pen a new three-issue digital mini-series for
Tech Jacket
, drawn by Khary Randolph (
Spider-Man, Hellboy
).
Kieron Gillen and Jamie McKelvie with team for the new ongoing series
The Wicked and The Divine
. The series, which focuses on old mythological characters who are reincarnated every 90 years, will feature guest creators and surprise arcs with alternate endings.
Stephenson also enthused about the news that Image Comics had the bestselling comic (
The Walking Dead
#115) and graphic novel (
Saga
) in comic stores in 2013 (see "
Image Had Top Comic and Graphic Novel of 2013
").