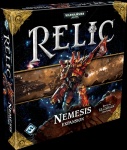 Fantasy Flight Games has announced
Nemesis
, the first expansion for their
Relic
board game set in the
Warhammer 40K
universe (see "
FFG's 'Relic' Board Game
"), for release in April.
Nemesis
will introduce player-versus-player combat to the board game. It also allows players to take the roles of enemies to the Imperium (like Khorne Berserker, Eldar Exarch, Tyranid Broodlord, or Champion of Slaanesh), and introduces new wargear and relics.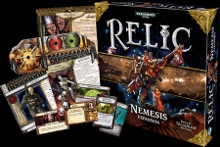 The box will include six new character pieces (four nemesis pieces and two character pieces), four new scenario sheets and 140 cards. As an expansion, it requires the
Relic
base game to play.
Relic
is for 2 – 4 players, ages 14 and up, and plays in 2 – 3 hours. MSRP is set at $39.95.