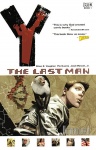 Brian K. Vaughan is very busy these days with
Saga
, the white-hot space opera he is doing with Fiona Staples, and his stint as the showrunner for the TV adaptation of Stephen King's
Under the Dome
. In a wide-ranging interview with
Comic Book Resources
, Vaughan provided updates on a couple of long-gestating movie projects based on his earlier works including his award-winning Vertigo series (with Pia Guerra) Y
: The Last Man
as well as his stint on Marvel's
Runaways
.
The tortured path of
Y: The Last Man
to the silver screen began way back in 2003 when New Line acquired rights to the property (see "
New Line Options 'Y: The Last Man'
"). After several attempts including a highly publicized affair in which director D.J. Caruso, who was attached to the project, went public with his differences with the studio over how to approach the lengthy saga that spans 10 graphic novel collections (see "
'Y: The Last Man' Loses Director
"), New Line made a final push in 2012, starting over with new writers (see "
'Y: The Last Man' Movie Gets New Writers
"). A year ago Dan Trachtenberg was attached as the new director (see "
'Y: The Last Man' Gets Director
").
But in his interview with CBR, Vaughan noted that the moment of truth for New Line is approaching fast: "It is my understanding that the rights to
Y: The Last Man
revert back to co-creator Pia Guerra and me, if the planned New Line adaptation doesn't start shooting in the next few months, so I expect there will be some "
Y
" news soon either way."
Vaughan was even less optimistic about the chances of the big screen adaptation of his stint on Marvel's
Runaways
: "And I presume
Runaways
is dead at this point, but I haven't talked to anyone at Marvel for a long time, so I'm not sure."