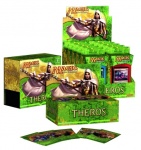 Hasbro released its Q4 and full year 2013 results on Monday, reporting a down, but profitable year. Sales for the quarter and year were both down slightly; profits were down to $286.2 million, vs. $336.0 million in 2012.
The drain on sales came from the boys segment, which was down 16% for the year due to declines in Beyblade and Marvel product (which had tough comps vs. 2012, an
Avengers
year).
Games were a bright spot, with sales up 2% for the quarter and 10% for the year. And as has been the case in recent quarters, Hasbro CEO Brian Goldner called out Wizards of the Coast and
Magic: The Gathering
for special praise.
Magic: The Gathering
was "up more than 20%" for the year, Goldner said on the earnings call as transcribed by
Seeking Alpha
; and Wizards of the Coast was up 23% overall.
Goldner also talked about the planned
Magic: The Gathering
movie. "There is a lot of storytelling across the
Magic
mythology, much like
Transformers
, for many, many years," he said. "And we're excited about that. It's going to be a few years off; we have to make sure we get a great script with great characters and great story first and foremost."
The Girls segment was up even more than Games, with a 19% increase for the quarter and a 26% increase for the year. Key brands in the growth story were
My Little Pony
and
Furby
.
Investors liked the news, despite the down year; shares were up 4.5% at the close Monday.