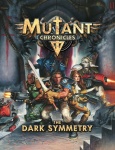 U.K.–based publisher Modiphius Entertainment has announced that Jay Little, who designed Fantasy Flight's
Star Wars: Edge of Empire
, has joined the development team on their forthcoming
Mutant Chronicles: 3rd Edition
RPG. The game is currently seeking funding on Kickstarter.
When asked why they're announcing a new designer now, Chris Birch, Founder and Publisher for Modiphius, responded. "We've been designing the system for the last six months--doing extensive play tests, several long surveys to analyze the feedback and have gone through three versions of the Alpha rules."
"We then brought Jay Little, John Dunn and Jason Marker to take our fourth version - the draft Beta rules--and re-write them, streamline the ideas and turn it in to a major system that can compete with the best of them," he continued.
Jay Little's extensive resume also includes design work on the
Warhammer Fantasy Roleplay 3E, Rogue Trader, Deathwatch,
and
Black Crusade
RPGs as well as the
Star Wars X-Wing
miniatures game, and several board and card games. Modiphius also named John Dunn and Jason Marker as developers, and a writing team of Dave Allen, Clive Oldfield and Sean Patrick Fannon.
Initially announced for release last year, (see "
'Mutant Chronicles' RPG Returns
"), Modiphius recently turned to Kickstarter to fund a full color, hardcover version of the rule and settings books.
The first core book release,
Mutant Chronicles: Dark Symmetry
, is planned for backer fulfillment beginning in August, with trade release to follow in September. Additional books, including
Mutant Chronicles: Dark Soul
, faction guides, and campaign setting guides, will be delivered to backers by December, but Birch said they would stagger trade release on additional product, so that the market was not overwhelmed. "We want to ensure a steady release schedule supporting the game and will not be releasing everything to trade in one go," he said.
"[T]he current plan is to come out with the core book and two or three guides, plus the first campaign in month 1 (September). Then one or two guides per month, plus the big campaigns every 3-4 months. I believe in full retailer support so we'll be reaching out to retailers to promote the launch, where possible support them with in-store demos from our Silvershield's community team and local promotional support through the team."
A retailer pledge level is available for the Kickstarter, allowing stores to purchase a minimum of four copies of the core rule and setting book at wholesale pricing.