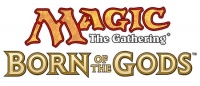 Following the release of
Magic: The Gathering--Born of the Gods,
chase cards such as "Brimaz, King of Oreskos" and "Kiora, the Crashing Wave" were the most sought after in the set. These were the cards players were most interested in playing with immediately after
Born of the Gods
release (see "
Top 10 'M:TG--Born of the Gods' Cards Before and After the Pre-Release
").
Since that time, events such as Pro Tour
Born of the Gods
and the TCGplayer Player Appreciation Weekend events have occurred. These events showcased the most recent changes in both the Modern and the Standard formats, driving steady, heavy demand for singles.
Top 25 'Born of the Gods' Cards by Dollar Volume

$ Vol.

Rank

Card Name

Average

Price

1

Brimaz, King of Oreskos

$32.15

2

Courser of Kruphix

$7.03

3

Kiora, the Crashing Wave

$20.13

4

Temple of Enlightenment

$6.97

5

Phenax, God of Deception

$7.82

6

Xenagos, God of Revels

$14.51

7

Temple of Plenty

$4.72

8

Ephara, God of the Polis

$8.36

9

Temple of Malice

$4.09

10

Mogis, God of Slaughter

$10.73

11

Eidolon of Countless Battles

$2.62

12

Spirit of the Labyrinth

$3.84

13

Hero of Iroas

$2.44

14

Herald of Torment

$1.79

15

Bile Blight

$1.24

16

Karametra, God of Harvests

$4.67

17

Satyr Firedancer

$2.03

18

Chromanticore

$2.18

19

Pain Seer

$2.22

20

Flame-Wreathed Phoenix

$3.99

21

Drown in Sorrow

$0.92

22

Searing Blood

$0.80

23

Hero of Leina Tower

$0.54

24

Fated Infatuation

$0.60

25

Oracle of Bones

$0.58
The breakout deck of Pro Tour
Theros
featured three cards that jumped to the forefront of sales: "Thassa, God of the Sea," "Nykthos, Shrine to Nyx," and "Master of Waves" (see "
The Aftermath of Major 'Theros' Events
"). This time around, events pushed sales of "Courser of Kruphix" and "Bile Blight" to the top of the charts, but for the most part sales of the hot cards from the time period following the set's release have stayed steady and strong.
Players still seem to be figuring out how
Born of the Gods
fits into the Standard format, but one card that certainly hasn't lived up to the early hype is "Pain Seer." Despite comparisons to "Dark Confidant," the card's sales and price have dropped since the set's release.
--Ray Moore is the Content Manager at TCGPlayer.com, the largest collectible card marketplace on the web, with hundreds of brick and mortar sellers listed.
The opinions expressed in this column are solely those of the author, and do not necessarily reflect the views of the editorial staff of ICv2.com.