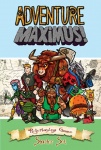 Eden Studios announced a May release for its new introductory-level role playing game
Adventure MAXIMUS!
during the recent Gama Trade Show in Las Vegas. Intended for both young kids and adults, the game includes everything needed to play in the box.
Designed and illustrated by Francis James Hogan,
Adventure MAXIMUS!
uses a card-based game mechanic, and is designed to be easy to learn so kids as young as eight years can get started quickly. It features eight character races for players to choose from, and is set in the post-apocalyptic fantasy world of
Ex-Machina
. The boxed starter set includes dice, rules, tokens, and game cards.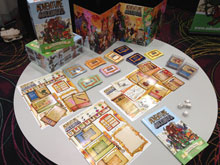 The idea of the game was summarized by Eden Studios owner George Vasilakos in a press release: "Many of the backers of the Kickstarter are parents who once played RPGs and want to do so now with their kids. But many kids RPG products on the market today require the parents to run the games for their kids. After the first session of
Adventure MAXIMUS!
, the kids will be able to run the game themselves with the 'Who-What-Where Adventure Creation System' featured on the 162 full-color cards included in the intro box set. Having the cards in front of the kids helps sparks the kids' imagination and the toy value keeps them at the table, instead of being intimidated by a large textbook game."
The new game is at the printer now, after a successful Kickstarter campaign last June that raised over $36,000 from more than 750 backers. MSRP will be $25.00.