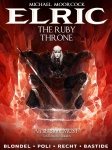 Titan Comics will release deluxe hardcover editions of Michael Moorcock's
Elric: The Ruby Throne
as well as Herik Hanna's
Void
in September.
Titan has plans for a range of new adaptations of Moorcock's
Elric of Melnibone
novels, beginning with
Elric: The Ruby Throne
. The 64-page, full color graphic novel will be adapted by Julien Blondel, with art by Didier Poli (
Le Petit Prince
) and Robin Recht (
Devil May Cry: The Chronicles of Vergil
). The story follows Elric as he attempts to foil a plot to overthrow this rule by his cousin Yyrkoon. The volume will include an original introduction by Moorcock, and will release on September 16 at $12.99.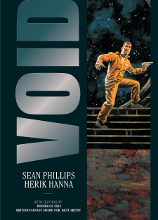 Herik Hanna (
Bad Ass, Operation: Broken Wings,1936
) has teamed with Sean Philips (
Hellblazer, Fatale, Criminal, Sleeper
) for the sci-fi thriller
Void
. The crew and inmates of an interstellar prison ship have all been massacred by Colonel Mercer, and the sole survivor John must find a way to escape. The 48-page, full color graphic novel will release on September 2nd, with a $9.99 MSRP.