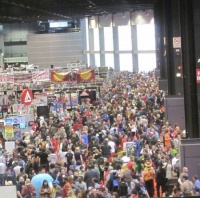 C2E2 wrapped up at McCormick Place on the lakefront in Chicago on Sunday, and although final attendance numbers have not been announced, it appears to be another in a series of very strong regional geek culture shows this spring. But the numbers do not mean that more of the same types of people that have been attending comic conventions for years are contributing to the growth in the same proportions. The nature of comic conventions is changing as they grow and the types of attendees broaden.
We were struck by comments from a couple of convention road warriors at C2E2, which illustrate the challenges and opportunities this changing community represents. The first was from a member of the crew from Jamie Graham's Graham Cracker Comics, one of the largest comic retailers in the country and a frequent exhibitor at conventions (including C2E2).
Graham Crackers had set up at FanX, a convention held in Salt Lake City, Utah, the weekend before. The show attracted a reported 100,000 attendees, according to the
Salt Lake Tribune
. But from Graham Crackers' perspective, the attendees were not likely to buy collectible comics, traditionally one of the top two product lines (along with new comics and graphic novels) at comic conventions.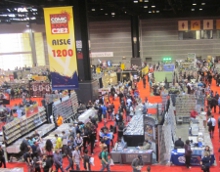 "It's like going to the mall now," the Graham Crackers employee said of the attitudes of many attendees at FanX. This new type of attendee goes to a comic convention to walk around, look at the displays, look at the cosplayers, and perhaps try to get a glimpse of a celebrity or two. It's certainly an opportunity to make a new consumer, but it requires a different approach.
One of the most common questions at the Graham Crackers booth in Salt Lake City came when looking at the prices marked on a comic (e.g., "25"): "Is that cents or dollars?" Customers who can't tell the price of a comic within two orders of magnitude are going to need different handling than a hard core fan who comes to a convention with his want list, and the per capita consumption levels are going to be substantially lower.
Perhaps the best summation of the changing dynamics at shows was provided by longtime convention exhibitor Bob Chapman of Graphitti Designs, who has been exhibiting at San Diego Comic-Con (and other shows) for over 30 years and was also set up at C2E2. "We've finally got those people we've been saying we wanted for all these years," he said of the broadening audience. "Now we have to figure out what to do with them."