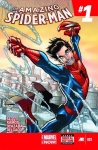 Marvel's sales and market share surged in April behind #1 seller
Amazing Spider-Man
#1, according to information released by Diamond Comic Distributors. Marvel has already announced that it shipped over 500,000 copies of the issue (in its various incarnations) worldwide (see "
Over 500,000 'Amazing Spider-Man' #1
").
Marvel's market share was a 2014 high, at 39.27%, compared to a fairly typical-for-2014 34.31% in March. DC was the big loser, with an April share of 23.65%, its lowest for 2014, down from 25.94% in March.
Another big Spider-Man issue,
Superior Spider-Man
#31, was the #2 title for the month. Dollars were impacted heavily by those books because both
ASM
#1 and
SSM
#31 were $5.99 books.
Marvel's
Hulk
re-launch and
Original Sin
#0 (another up-priced book at $4.99) rounded out Marvel's four books in the top 10 for April.
DC had five Batman titles (the best-selling
Batman
plus four issues of
Batman Eternal
) plus Justice League in the top 10.
Image continued strong as the #3 publisher for comic stores with a 9.34% share of April, and Dark Horse continued its strong 2014 showing, holding #4 for the third month in a row.
Top 10 Comic Books for April 2014
Amazing Spider-Man #1
Superior Spider-Man #31
Batman #30
Batman Eternal #1
Justice League #29
Batman Eternal #2
Hulk #1
Original Sin #0
Batman Eternal #3
Batman Eternal #4
Year over year changes were nearly meaningless because of calendar changes. Comic sales were up 17.37% over April 2013, according to Diamond; graphic novel sales were up 16.78%; and overall comics and graphic novel sales were up 17.18%. But April 2014 was a five-Wednesday month, compared to a four-Wednesday Month in 2013.
The year-to-date sales turned positive with April, but again calendar changes rendered the numbers tough to interpret because there were 18 Wednesdays in the January through April period in 2014, vs. 17 in 2013. Diamond reported year-to-date numbers down .89% for comics, up 5.44% for graphic novels, and up 1.04% overall for the first four months of 2014 vs. the same period in 2013, so it wasn't the kind of growth we've been used to seeing, even with the extra week.
One fun fact related to these calendar changes: there are 53 Wednesdays in 2013, which will contribute up to 2% to growth overall for the year.
Sales are still up a lot over 2012; the growth rate in April 2013 was 14.18% overall. But sales in 2014 are not continuing to grow at best and may be declining at worst (see "
Comics Down--Three is a Trend
" for our analysis last month).
We separately looked at comic store graphic novel sales in April (see "
Image Dominates Top Graphic Novels
"), and at some of the trends between publishers (see "
DC Is Losing Share to Smaller Publishers
").