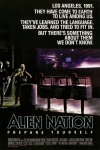 Fox is planning to remake the film version of the 1988 movie
Alien Nation,
according to
The Tracking Board
.
The original movie was set in (then) near-future Los Angeles, 1991, after a UFO slave ship crashes in the Mojave Desert, forcing humanity to absorb an influx of 300,000 intergalactic refugees, dubbed Newcomers. The sci-fi buddy-cop drama follows two detectives, one human, one Newcomer, as they try to solve a murder in the Newcomer society, while dealing with racism and bigotry from both sides.
The film was written by Rockne S. O'Bannon, who went on to pen
Farscape
and the current SyFy series
Defiance.
Directed by Graham Baker, the movie starred James Caan and Mandy Patinkin.
The original movie led to a single-season TV show on the fledgling Fox network, which canceled it, along with all its original dramas that year, due to overall low advertising income. A novelization series by Pocket Books followed in 1993, to resolve the cliffhanger elements of the season finale in an early transmedia moment. Eventually five TV movies with the series cast were produced. DC produced a comic book adaptation of the 1988 film, and Malibu Comics produced several spin-off mini-series.
The last attempt to revive the series was in 2009 on SciFi (as it was in the process of rebranding as "SyFy," see "
SciFi Rebooting 'Alien Nation'
") but it never made it to air.
In the current incarnation, Mark Roybal and Ryan Jones are executive producing for the project, and they are actively meeting with writers.