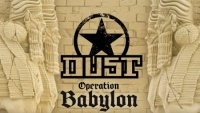 Battlefront Miniatures, distributors of the alternate-history World War II miniatures game
Dust Tactics
and
Dust Warfare,
have shared details on a retailer program that runs concurrently with the Kickstarter for the new
Dust: Operation Babylon
setting. Retailers will be able to order all products featured in the Kickstarter directly for their customers, while still receiving their retailer margin on the purchases.
Battlefront will provide an order form, updated as the Kickstarter campaign progresses, with the same choices that appear on the website for customers to buy. This does mean that store owners will be required to keep customers updated as the list of new add-ons and choices grows. Customers will fill out the order form and provide their credit card information to the store, to be collected by the store when the Kickstarter closes (the same as if they were pledging directly to the Kickstarter). Customers participating in this store program will be given a last chance to add to their orders after the Kickstarter closes. Stores participating will not be charged the additional shipping charges that backers would be for home delivery.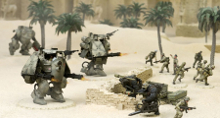 After the Kickstarter has closed, Battlefront will ask stores to place a final combined order, at trade prices, which will need to be paid in full at that time (projected order due date will be the last week in June). Battlefront assumes that stores will have run the credit card orders for full price at this time, and thus, will actually have profit in hand prior to this final trade order submission.
The products are scheduled for August delivery, as production on the
Operation Babylon
line has been underway for a while. The Kickstarter is intended to speed up the overall release process, so buyers can have their entire army at one time, rather than as the traditional slow-build of unit box releases over the period of several months. "On the pricing issue, the retail prices on the KS site are not discounted, as this is not about getting it cheaper but about getting more variety," John-Paul Brisigotti, Battlefront's Managing Director explained. "We are not bribing people with discount but with the desire to have it all at the start."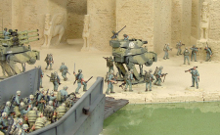 The Kickstarter will run through Thursday June 19th. In a little over 24 hours, the project blew through its $50,000 goal and as of this writing, has collected $101,590 in pledges from 512 backers ($198.41/backer).
The new
Dust: Operation Babylon
setting takes the three
Dust
factions (Allies, Axis, and SSU) and moves the battle to the Mesopotamian desert. In April 1947, the
Blutkreuz Korps
uncover an ancient alien energy source, more powerful even than the Vrill-Kultur (VK) alien energy previously discovered. Now the battle will change, as walking tanks, lasers, and other alien technology join the fray to control the Babylonian power source.