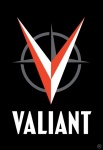 We interviewed Valiant Entertainment executives CEO/Chief Creative Officer Dinesh Shamdasani, Publisher Fred Pierce, Executive Editor Warren Simons, and Director of Marketing, Communications, and Digital Media Hunter Gorinson. In Part 3 of this three part interview, we talk about the state of Valiant's movies, licensing, and the company's summer releases. In Part 1, we talked about Valiant's first two years and its graphic novel business. And in Part 2, we talked about Valiant's biggest reorder titles, the use of variant and enhanced covers, and the Valiant universe.
What's the status of media projects for Bloodshot, Harbinger or other properties?
DS:
What we can say is somebody is our partner on
Bloodshot
, Mathew Vaughn is on board as director, and Neal Moritz is our producing partner on it (see "
Here Comes the 'Bloodshot' Movie
" for the status back in 2012). We have a script that all the partners are very happy with so we're very close to getting that into production. You'll an announcement once we get over that hump. There's been a very interesting development with
Harbinger
that we can't talk about yet.
In addition to
Bloodshot
, we have three or four other titles that we've got writers for that we're developing in house. Joe Straczynski is writing
Shadowman
(see "
JMS to Adapt Valiant's 'Shadowman'
"). He's on his third draft. Sean Daniel is our producing partner: he produced the
Mummy
films and he's doing
Ben-Hur
now. So that's going very, very well. We're talking to a couple of directors on that one. There's another one where we're about to lock down a big name director.
Part of our presence as a company is to wait until everything is solidified, especially with the prevalence of things getting optioned and announced as a TV show or a movie and then nothing comes of it. We want to avoid that.
Of the projects in the pipe, you think Bloodshot will be the first to hit reality?
DS:
Yes, I think that will go to production in the next 12 to 18 months.
You recently announced a Catalyst Game Lab license for an RPG (see "
'Valiant Universe RPG: Core Rulebook'
") and previously announced agreements with Dynamic Forces (see "
Dynamic Forces Gets Valiant
"
) and Rittenhouse (see "
Valiant Trading Cards
"
) as licensees. How has the licensing side of the business been going and what are the standout products?
DS:
Like we do with the rest of the business is take a slow and steady approach. What Russ [Brown] has done is go toward the licenses that were the first jumping point for new readers to come into the universe. We've done plushes, t-shirts, trading card sets, lithographs and some statues in the works. The RPG we're really excited about. Catalyst is one of the best in the business at it. They're big Valiant fans and they've got a 10-part digital program that they're building from Free Comic Book Day through free RPG Day to see the game (see "
'Valiant Universe RPG' Pre-Release Promotion
"). The game's coming along really nicely.
So licensing is going very well but we're taking a very conservative approach. You're not going to see us do a big license with a big box retailer just yet. We do have a couple of things that we're excited about that we have not announced yet.
Are there any licenses announced that we haven't mentioned yet?
[A list was provided after the interview.]
Catalyst (tabletop gaming)
Cinderblock (apparel)
Dynamic Forces (collectibles)
Classic Imports (collectibles/glassware)
Amazon/Kindle Worlds (fan fiction)
Rittenhouse (trading cards)
HQM (foreign publishing)
Panini (foreign publishing)
Jackpot/Heart Healthy (energy drinks)
Storm City (mobile games)
Custom Wall Scrolls (wall scrolls)
Comic Images (plushes)
GOG.com (video games)
Night Dive (video games)
Kamite (foreign publishing)
Ovni (foreign publishing)
Comicube (foreign publishing)
Quarantine Studio (statues)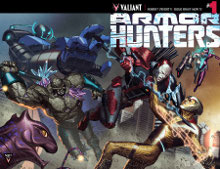 What Valiant publishing products are you most excited about coming out the rest of this year?
WS:
Our big event which launches in June is
Armor Hunters
, written by Robert Venditti, with art by Dougie Braithwaite. Over the past couple of years Rob's built a story which features Aric of Dasia, a time-displaced Visigoth, with the most powerful weapon in the world known as the X-O Manowar armor. For the last couple years we've seen this be the most coveted object in the universe. It's something everyone wants to get their hands on, whether that's the Valiant heroes in our
Unity
launch, or divine aliens in the
X-O Manowar
launch. But what we discover is that the suit may be a bit of a poisoned chalice. That launches in June with Issue #1, but the four-issue limited series is going to tie into a bunch of our other titles including
Unity
, written by Matt Kindt with art by Stephen Segovia, and
X-0 Manowar
written by Robert Venditti with art by Diego Bernard. We're super excited by that.
In July, we launch two three-issue limited series. One is our
Bloodshot
title with Joe Harris and the brilliant Trevor Hairsine, and then we have
Armor Hunter: Harbinger
by Joshua Dysart and Robert Gill. So we've got an exciting four-issue summer blockbuster coming up and our
Rai
story which was launched in May will continue. We've got a ton of stuff coming up as part of our Valiant First initiative.
DS:
We're super excited about
Armor Hunters
, it's something we haven't tried before. It's a very big scope story which is very tricky when you're working within a shared universe but we have some really talented cats at Valiant, Warren included. We think we may have cracked it. We looked to
The Authority
, we looked at a bunch of big books like that. We're going to do our big, epic story.
Anything else that we should have asked about?
WS:
Continuing our summer launches, we have
Delinquents
#1, which will be a four-issue limited series from the co-writers of
Archer and Armstrong
, the brilliant Fred Van Lente and the great James Asmus. That's our crossover book with
Archer and Armstrong
and
Quantum and Woody
. It's something we knew we wanted to have happen since day one here. It's absolutely goofy and irreverent and awesome and it features…
DS:
An ass map! Fred Van Lente and James Asmus came up with this great idea. The whole story centers around a map of the United States that's been tattooed on a homeless man's ass, and then skinned and split into two and it leads to the Hobo treasure. So Archer and Armstrong on one half and Quantum and Woody on the other half, and of course, X marks the spot in the middle of the butt cheeks and that's where everyone's headed.
WS:
And you know, Dinesh comes to my office almost every month to ask if we can incorporate an ass map into all of our titles. I just couldn't hold him off any longer.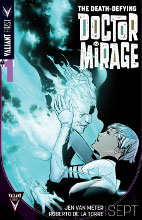 Then we have
Dr. Mirage
coming out, which I'm super excited about. Jen Van Meter's come onboard. She's put together a really beautiful first script which unlocks a whole side of the Valiant universe that we haven't seen before. Roberta De La Torre did some jaw dropping, breathtaking, beautiful art for
Shadowman
.
DS:
The thing you really need to ask us is what we're doing next, because none of us can tell you. If I even tried, Warren would literally jump through the phone and kill me because we have something really cool cooking up.
FP:
We've done the difficult thing where we're looking forward, we're not looking back. Years one and two are gone and now we're looking to years three and four. We always want to be next year's comic book company. That's really the goal here, and we keep that in mind.
DS:
That's really what
Rai
and Armor Hunters is about our launch is about. We did something and then a lot of people looked at it and had some success. So with Rai and Armor Hunters, we tried to double down and push further and now again with the next thing we're doing that we can't talk about, it's more of that. I think people will have the same reaction that did when they saw
Rai
. How did this company manage to put this together? This is a big boy book.
FP:
We're a little company but we have a very big footprint. We're proud of it, but it just keeps raising the bar. It raises the bar for us.
Click here to go back to
Part 1
.