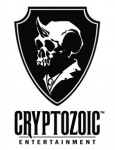 In December Cryptozoic Entertainment will release the
DC Comics Deck-Building Game: Rivals Batman vs. The Joker
, a new two-person game that allows comic book fans to engage in head-to-head card conflict. The 98-card set, which will have a retail price of $20, contains everything necessary for two players to engage in mortal combat as the Dark Knight or his arch-nemesis The Joker.
The
Batman vs. Joker
set is the perfect introduction to the Cerberus System, the same game engine used in Cryptozoic's bestselling
DC Comics Deck-Building Game
(see "
DC Comics' Deck-Building Game
"). The
Batman vs. Joker
games begin with a flurry of activity as players seek to gain the right combination of cards for their decks. Once a player feels sufficiently fortified, he or she can launch an attack directly at his arch-nemesis.
The first player to drop their opponent three times wins, but each time it gets harder to do. Each player has 3 oversize cards featuring either Batman or The Joker. When one of the two protagonists is beaten in direct combat the next card is revealed, and it gives the vanquished character boosts in ability that make any subsequent takedowns more difficult.
The
DC Comics Deck-Building Game: Rivals Batman vs. The Joker
includes 98 regular cards plus six oversize "Hero" cards, and rules.
Cryptozoic's other upcoming fall releases for the
DC Comics Deck-Building Game: The Crisis Expansion
and the stand-alone
Forever Evil
can be seen here (see "
'DC Deck-Building' Expansion and New Game
").