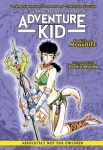 A Paid Advertisement.
The sinister computer has sucked Kazu's father into a surreal world where libidinous desires rule. This depraved stimulation is beyond anything he's ever imagined, and he may never WANT to leave...Can Kazu and his lover Midori convince the old man to come back to the real world?
From the creator of 'the Erotic Grotesque' style of manga and anime - Toshio Maeda!
Scheduled to ship: 8/20/2003
For more information check out Manga 18's electronic press kit at:
Digest Size: 5.5' x 8'
Rating: Age 18 and up
SRP: $16.95
Black and White
224 pages
Catalog number: CMX 63503G
ISBN: 1-58664-886-1
UPC: 7-19987-00635-5-00311

Original Manga: Japanese style right to left format book.