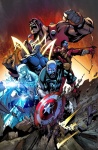 Marvel has announced a new series starring the original Guardians of the Galaxy by Dan Abnett launching in October.
Abnett, along with artist Andy Lanning, is responsible for the second, modern incarnation (2008) of the
Guardians of the Galaxy
team, which was assembled from characters in the
Annihilation: Conquest
storyline. The original
Guardians of the Galaxy
first appeared in
Marvel Super-Heroes #18
in January 1969, written by Arnold Drake and penciled by Gene Colan. The first team consisted of Major Vance Astro, Martinex T'Naga, Captain Charlies-27 and Yondu Udonta, who together fight the alien race known as the Badoon in the 31st century. Starhawk and Nikki later join the team.
In the new series, Vance Astro, Yondu, Starhawk, Martinex and Charlie-27 are back with a new mission that begins with a galactic battle against the Brotherhood of the Badoon. The new series promised new and classic foes, and a timestream adventure to prevent the collapse of reality itself.
Guardians 3000
#1, written by Abnett, with art and cover by Gerardo Sandoval (
Tomb Raider, Cable and X-Force
), arrives in October, well timed to cash in on the anticipated need for new
Guardians
content after the August release of the movie (see "
New 'Guardians of the Galaxy' Trailer
").